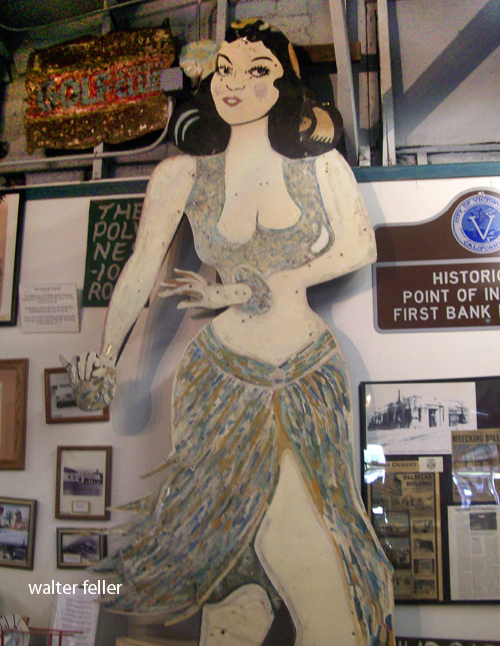 After retiring as a 'carny,' or carnival worker at the Venice Pier and Santa Monica Pier, Miles Mahan (1896-1997) began building Hula Ville in 1955.
Wine- and beer-bottle tree sculptures adorned Joshua trees and wooden posts. Desert sandblasted wood signs held poetry and prose; dolls, award statues, and other found objects were displayed outside. A homemade miniature golf course bordered by half-buried bottles was included in his residence, as well as a pickup truck camper and a pickup truck camper without a truck. There was no charge, and donations were accepted.
Mahan also erected a large dancing hula girl sign at the entrance, a business discard he rescued and repurposed. The crude hand-lettered sign beneath her read: "People travel through the state, how little will they know her fate, for the traveler who'll ever be the wiser, the Supervisors saved her life." Busses traveling to Las Vegas from Los Angeles would stop, and Miles would entertain them by dancing on his little wooden stage, and they would leave tips. Even in his eighties, he was still able to dance. As much as he enjoyed guessing people's weights at carnivals, he enjoyed watching Hesperia grow into a city. His poetry and books mention the many people he met along the way, with whom he loved talking about real estate. Whiskey Pete and Scotty from Death Valley were his friends, and Miles was quite a storyteller. These were all true stories. He appeared on the Johnny Carson Show as Johnny invited him back due to his outspoken personality 2 or 3 times. They would send a limo to pick him up and return him.
In 1995 Miles Mahan moved to a convalescent home and died on April 15, 1997. In September 1997, Hula Ville was demolished.