Desert Rivers:
Mojave River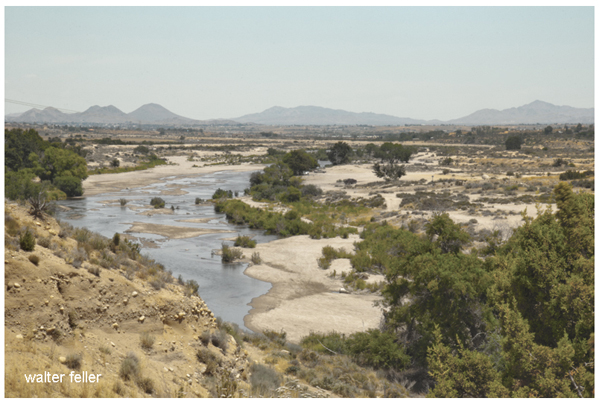 Mojave River along Hesperia

The Mojave River is unique as for most of its length water flows below ground, under the sand and instead of flowing toward the ocean as rivers do, the Mojave flows inland, terminating in the middle of the desert.

The ephemeral waters of the Mojave originate in the watershed of the San Bernardino Mountains. Water gathers from north of the ridgeline and flow down a series of creeks and washes, either underground, or combine in either Deep Creek or Miller Creek, the main above ground sources of the Mojave River before it slips beneath the surface.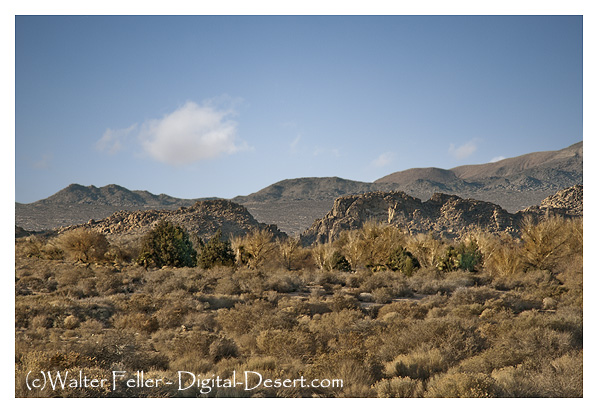 Upper Mojave River Narrows

The Mojave waters do come above ground. Usually, the river flow can be seen at the upper narrows between Victorville and Apple Valley, then downstream past Barstow at the lower narrows as the river begins its way through Afton Canyon. The river winds down the canyon and seeps into the sand disappearing before it reaches Soda Lake near Baker.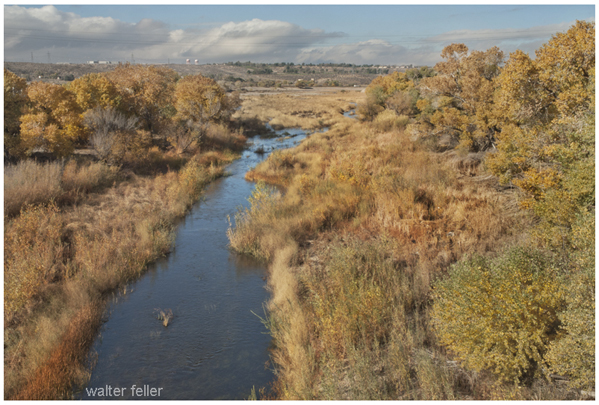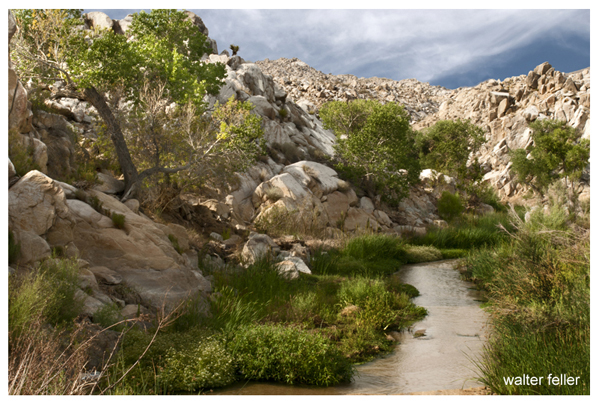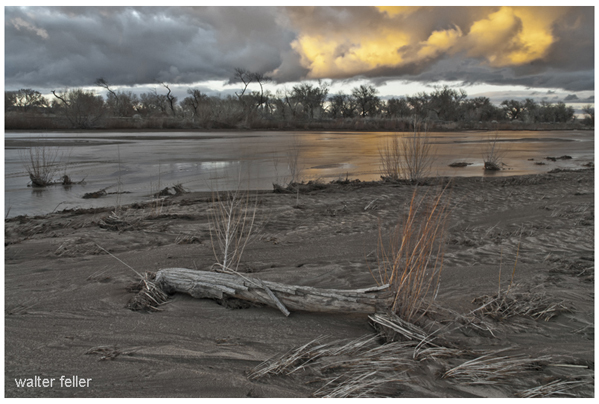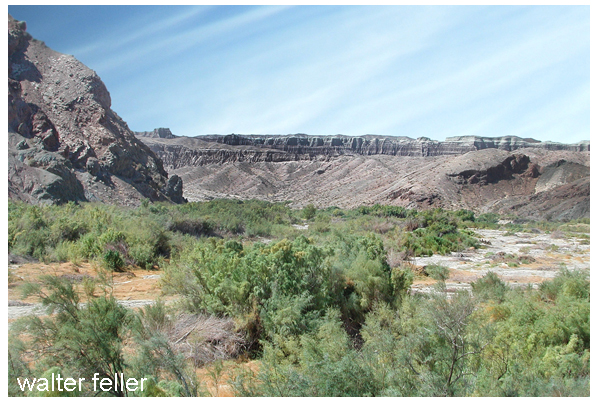 Afton Canyon

The Mojave Road followed along the river from Soda dry lake to the Cajon Pass. Desert Indians used this as a trade route where water could easily be found on the way to and from the coast. Later, the Old Spanish Trail and Salt Lake Trail (Mormon Road/Trail) joined up with the river near where Daggett is today.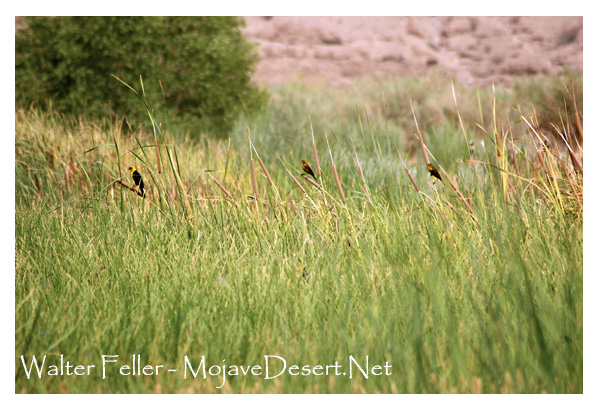 Natural History
Formation of the Mojave River
The Mojave River is the largest drainage system in the Mojave Desert. It's modern extent and capacity is only a ...

Ancestral Mojave River This model was developed to show what the Mojave River and its network of lakes may have looked like before the ...

High Desert Plains and Hills This subsection consists of the western Mojave Desert, which is mostly alluvial plain and pediment, with ...

Mojave Valley - Granite Mountains This subsection consists of about half upland, including pediments, and half alluvial plain. There are many small ... Afton Canyon Afton Canyon was carved by water draining from ancient Manix Lake, very likely through a crack caused by a strong earthquake ...
Human History
On the Trail of a Spanish Pioneer

Fr. Francisco Garces discovers the Mojave River in his journey across the Mojave to the San Gabriel Mission.

Discovery of the Mojave River ... but there is not the slightest doubt of Garces' discovery and present position. Mojave river has no outlet, but ...

Jedediah Smith
He is credited with being the first American to travel overland to California through the southwest and the Mojave. ...

Journal of Jedediah Smith
... he traveled along a branch of what became known as the Mojave Indian Trail, up the fickle Mojave River and into ...

Pioneer of the Mojave This is the story of Victor Valley pioneer Captain A. G. Lane, the first permanent settler on the High Desert. In 1858 Lane located at a spot about one-half mile below the lower narrows of the Mojave River. ...



click for larger map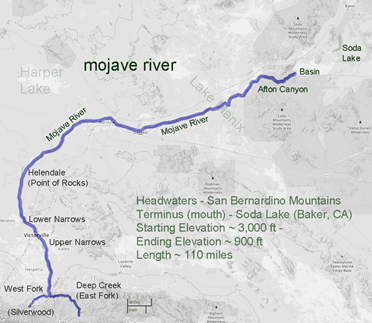 East Fork (Deep Creek)
West Fork
Ancestral Mojave River
How the Mojave River got its Name
Mojave River Trail
The Broken River