Points of Interest
Gold, Ghost Towns, Camps, Buildings & Etc.
There is only one reason why desert ghost towns exist; the absence of money. If money isn't there, there is no reason for people to stay. In areas where good-tasting water is readily available, contemporary communities have developed. In the Mojave, these population centers evolved from springs along trails and later roads into transportation waystations and hubs, sometimes concealing or obscuring historical consequences.


Not all of the sites and points of interest on this list are ghost towns per se or abandoned. Still, they may be active communities undermined by the loss of industry or commerce.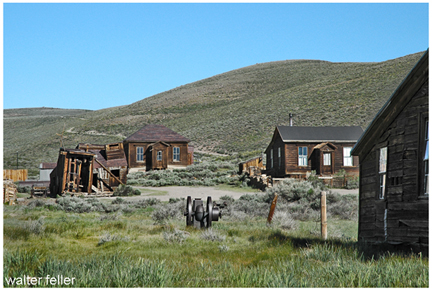 Death Valley Ghost Towns
East Mojave Ghost Towns
East Mojave
Upper Mojave Ghost Towns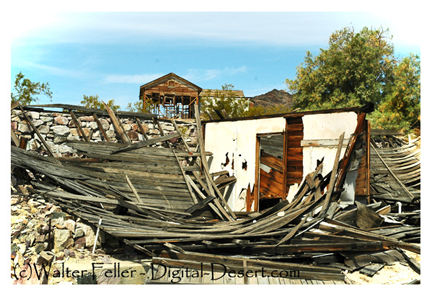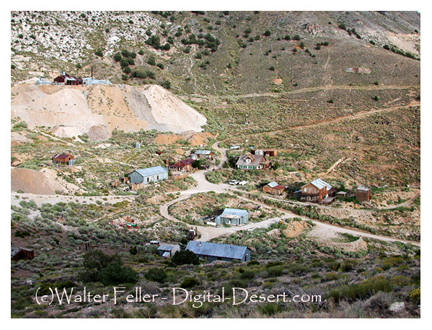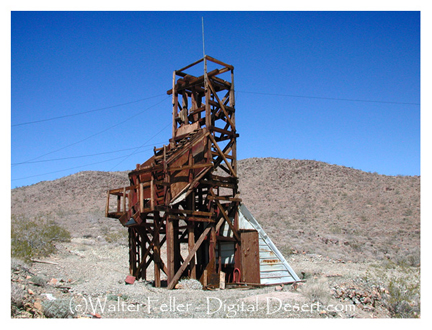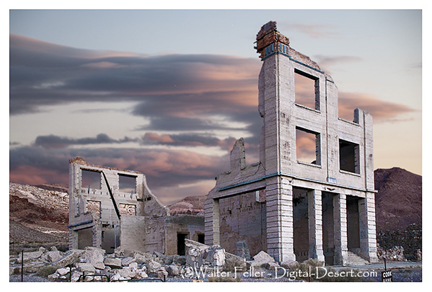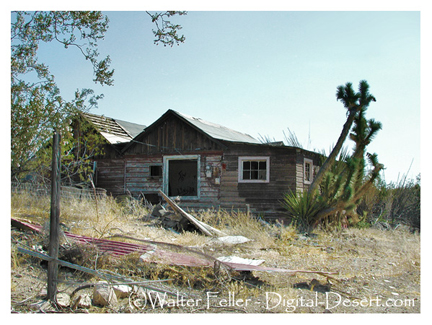 ---
OLD WEST
- Hunter Cabin
Buildings
Cemeteries
Ore Processing


Mining History
Desert Fever
Gold
Borax
WARNING
Many mines and ghosttown ruins have become active under private ownership. DO NOT TRESPASS! Obtain permission from the property owner before entering any private property for any activity.
Amboy
Arbuckle Mine
Atolia
Bagdad-Chase*
Ballarat
Ballarat*
Bickel Camp
Bodie
Bonanza King Mine
Bonanza King Mill
Cadiz Summit **
Calico Ghost Town
Caliente
Cartago
Cerro Gordo
Chloride, Az
Chloride Cliff
Chrysopolis
Cima
Coolgardie
Cudahy
Darwin
Death Valley Mine
Death Valley Mine*
Desert Queen Mine
Dolomite
Dublin Gulch
Eagle Cliff Mine
Essex
Eureka Mine
Evening Star Mine
Garlock
Garvanza Mine*
Goffs
Goldfield, Nevada
Gold Hammer Mine
Gold Mountain
Goldstone
Goldstone*
Gold Valley*
Goler Gulch
Goodsprings, Nevada
Greenwater
Greenwater*
Harrisburg
Hart
Ibex
Ivanpah
Johannesburg
Keane Wonder
Keeler Smelter
Kewanee - Sunnyside*
Kokoweef
Keeler
Kelso
La Paz, Az
Leadfield
Llano del Rio
Lippencott Lead Mine
Lost Burro Mine
Lost Horse Mine
Ludlow
Manvel
Mastodon Mine
Mescal Mine
Mohawk Mine
Moorehouse Mine
Moorten's Mill
Morning Star
Nantan*
Nelson, Nv.
New Dale Ghost Town
Nipton
Oatman Arizona
OK Mine
Old Dale Ghost Town
Old Dominion Mine
Old Dutch Cleanser Mine
Panamint City
Providence
Providence
Providence Mountains*
Ragtown
Randsburg
Red Mountain
Rhyolite
Rice
Rosalie*
Rosalie/Valley Wells
Ruth Mine
Ryan*
Searchlight
Sextette Mine
Shoshone
Silver Bell (Barstow)
Silver Bell Mine (JTNP)
Skidoo
Skidoo Mill
Standard Mine #1
Stedman/Bagdad-Chase
Swansea
Techatticup
Tecopa 20th Century*
Toegel City
Tonopah, Nevada
Tropico
Vanderbuilt
Virginia Dale
Vontrigger
Yermo