Desert Ghost Towns:
Panamint Valley
Ballarat Ghost Town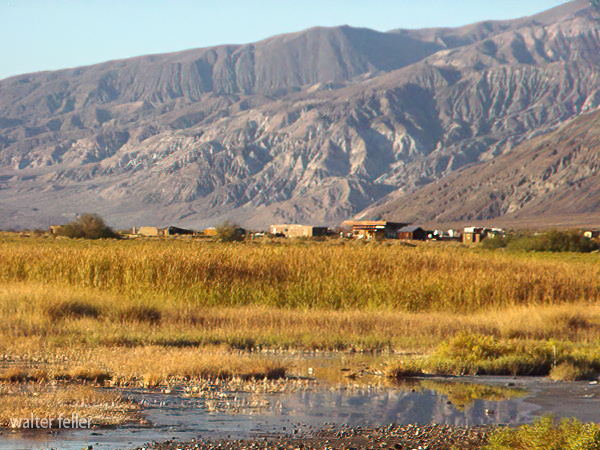 From 1897 to 1917 Ballarat served as a supply and recreation center for miners in the Panamint Mountains and Death Valley. Ballarat springs, cemetery, and remaining ruins of adobe, tin and wood buildings are featured. At its peak the remote outpost boasted 7 saloons, one school, and no churches. The ghost town is included in the list of Death Valley ghost towns but is not located in the park.
Ballarat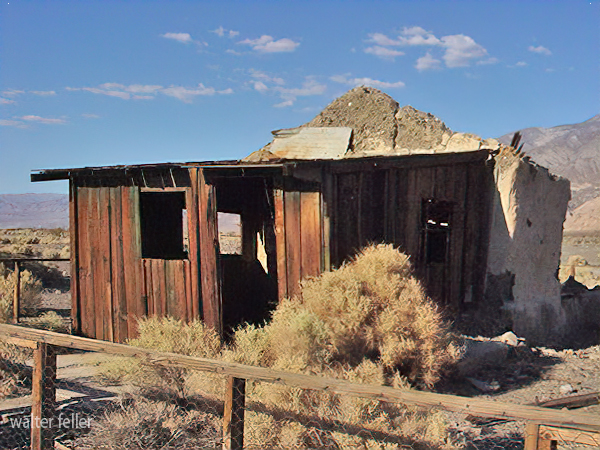 Around 1897 another town in the vicinity of Panamint rose to prominence. This was Ballarat, named for an important Australian gold camp near Melbourne. It was located one-half mile north of Post Office Spring, which had served as a communications center and overnight stop for prospectors during the Panamint boom. The main mine, the RadcHffe, produced 15,000 tons or more of ore from 1898 to 1903. From 1927 to 1942 its tailings were cyanided with a reported recovery value of one quarter of a million dollars in gold. 2 In 1941 the Ballarat Mining and Milling Corporation, a Nevada company, bought property in the Slate and Panamint ranges in San Bernardino and Inyo counties. A Los Angeles company intended to make exhaustive metallurgical tests, paving the way for a projected modern fifty-ton reduction mill south of town to perform custom work. An assay office and metallurgical laboratory were to be part of the complex, 3 and once again Ballarat would see a resurgence of mining activity.

. . .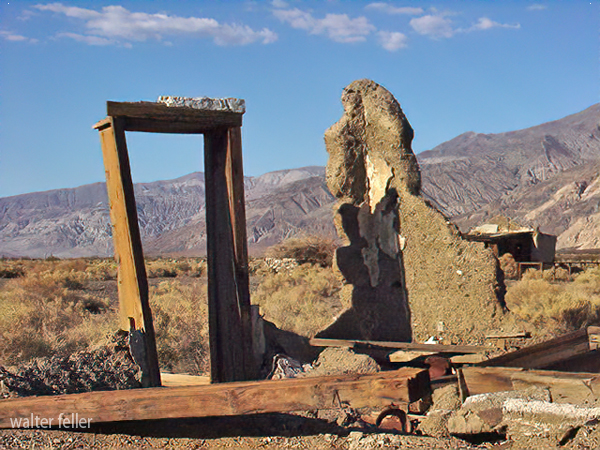 Ballarat, in the process of heavy construction, held much commercial importance in the area because of its central location and accessibility to miners in the adjacent mountains, its good water supply, and its proximity to the railroad. Mines in the Panamints were producing ore that could be easily milled or on which cyanide treatment was effective.

HISTORIC RESOURCE STUDY A HISTORY OF MINING IN DEATH VALLEY NATIONAL MONUMENT
VOLUME I OF 11
Part 1 of 2
By
Linda W. Greene

Also see:
Ballarat Cemetery
Post Office Spring
History of Ballarat
Death Valley Ghost Towns
-
Inyo County Mining History
Lost Gunsight Legend; Lookout Gold in Inyo County; Beveridge; Ballarat Ryan · Greenwater · Tecopa (20th Century) Gold (20th Century); Little Mack ...
Inyo County Gold
Ballarat Charles Anthony and John Lampier located the Panamint Valley Mine on July 27, 1893. This mine, also known as the Anthony, Gold Bug, and Knob Mine, ...
Inyo County in the 20th Century
After the Ballarat boom, no new gold discoveries in Inyo County occurred until the worldwide depression of the 1930s and devaluation of the dollar brought ...
Shorty Harris - Death Valley History
From 1897 to 1917 Ballarat served as a supply and recreation center for miners in the ... Ballarat Ash Meadows View of Telescope Peak from Shorty's Grave ...
Pete Aguereberry
He was found and nursed back to health by Oscar Denton, the caretaker for the Greenland Ranch, and just a month later was headed up to Ballarat with Shorty ...
Death Valley - Jack Keane
Jack Keane was an Irish Miner out of Ballarat. He'd been prospecting for over 8 years finding pretty much nothing. One day in 1903 he discovered a ledge ...
Ballarat Area
A guide to the Geology of the Ballarat Area, Death Valley Regional Geology Guide.
Ballarat Delta

The geology of Ballarat Delta, Ballarat Area, Death Valley regional field guide.

Briggs Mine

The Briggs mine is 7.7 miles south of Ballarat on a level, winding but good surfaced road maintained by the mining company. ...
Panamint Range
Comprises the Panamint Mountains, which are between Panamint Valley and Death Valley.

Wilderness
Surprise Canyon Wilderness
ACCESS: Access to this wilderness is via State Highway 178 through Panamint Valley and along Ballarat Road to Indian Ranch Road. Four-wheel drive routes ...
Manly Peak Wilderness
ACCESS: Access this wilderness via State Highway 178 north of Trona and along, Ballarat Road. Go south on Wingate Wash Road, then east on Goler Wash Road or ...
Surprise Canyon
Panamint and Ballarat 7.5 minute topos. Comments: Old jeep road washed out in 1980s and offically closed to vehicles but makes a great hiking trail. ...

History
Randsburg Mining District
Miners from as far away as Pleasant Canyon and Ballarat could now enjoy a weekend of golf, stay at the Hotel Johannesburg, and board W. K. Miller's stage on ...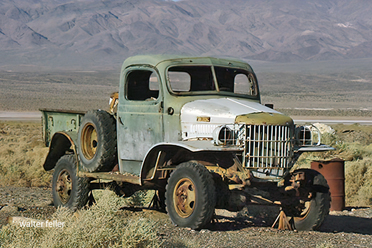 Ballarat

Location and History. Ballarat is in south-central Inyo County on the west flank of the Panamint Range and just west of Death Valley National Monument. It was named for the Ballarat mining district in Australia. It includes the South Park area to the south. The old silver-mining camp of Panamint City is just to the north. The Ratcliff mine, the largest gold source in the district, was discovered in 1897, and considerable mining activit)' lasted until about 1915. The mines were active again from 1927 until 1942, and there has been intermittent prospecting and development work since. Geology. The district is underlain by schist, dolomitic limestone, and gneiss of Precambrian age, which in places have been cut by granitic dikes. The ore deposits consist of quartz veins containing free gold and occasionally abundant sulfides.

Mines. Cecil R., Knob, Lestro Mountain, Lotus, Porter, Ratcliff $1.3 million-1-, Thorndyke, World Beater.

BULLETIN 193
California Division of Mines and Geology
Sacramento, California, 1970