Parks & Public Lands - Ghost Towns:

Bodie, Ghost Town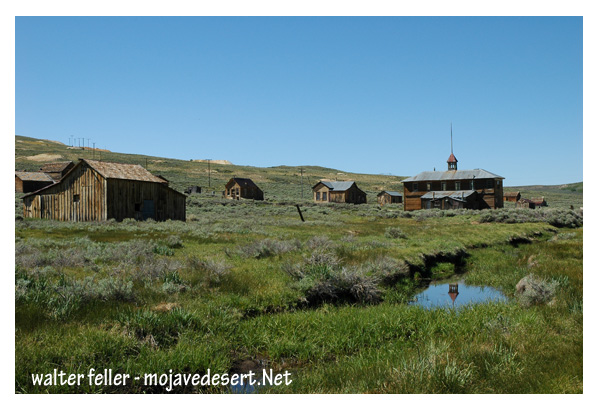 Bodie State Historic Park is a genuine California gold-mining ghost town. Visitors can walk down the deserted streets of a town that once had a population of nearly 10,000 people. The town is named for Waterman S. Body (William Bodey), who had discovered small amounts of gold in hills north of Mono Lake. In 1875, a mine cave-in revealed pay dirt, which led to purchase of the mine by the Standard Company in 1877. People flocked to Bodie and transformed it from a town of a few dozen to a boomtown.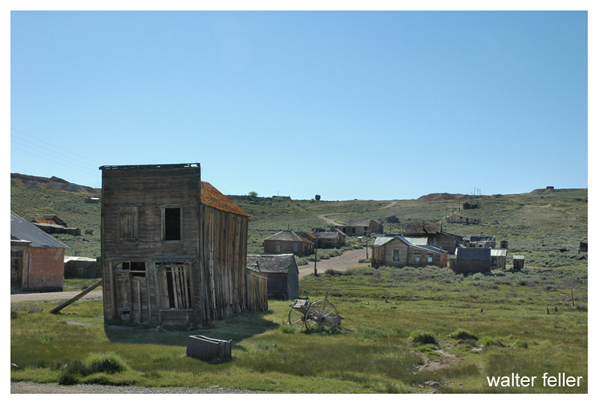 Only a small part of the town survives, preserved in a state of "arrested decay." Interiors remain as they were left and stocked with goods. Designated as a National Historic Site and a State Historic Park in 1962, the remains of Bodie are being preserved in a state of "arrested decay". Today this once thriving mining camp is visited by tourists, howling winds and an occasional ghost.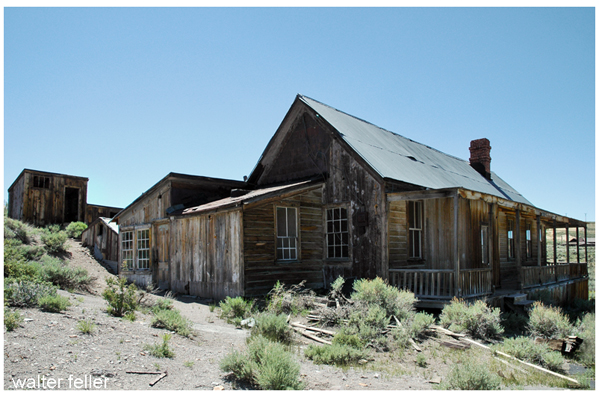 The wild rush to the high desert country began as placer mining declined along the western slopes of the Sierra Nevada. In 1859 W.S. Body (Bodey) and others came upon what was to be one of the richest gold discoveries the West had ever known. The ore mined in the Bodie hills accounted for more than 32 million dollars in gold and 6-7 million in silver.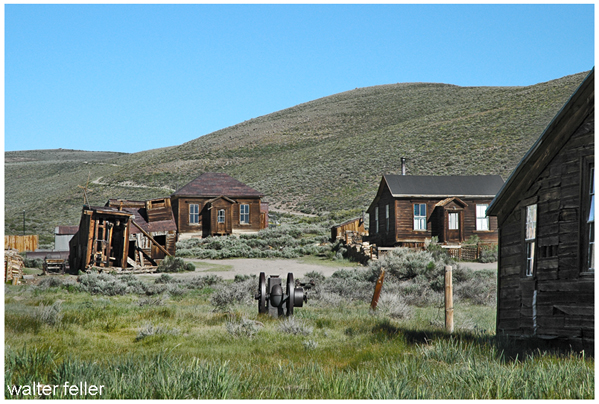 The spelling of the town's name was changed to Bodie in the early years to avoid the name being mispronounced. Bodie himself was not able to enjoy the fruits of his discovery as he froze to death the first winter while returning with supplies.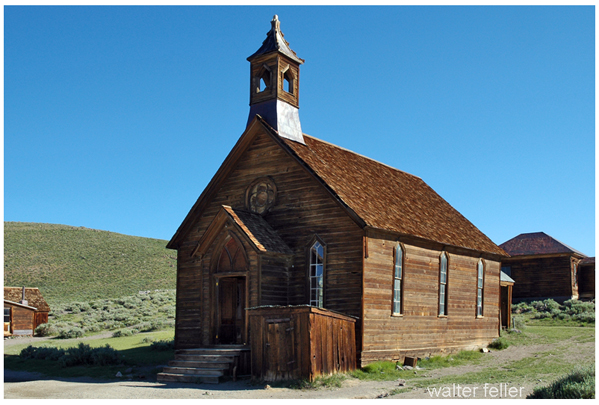 Mining was slow during the 1860's and early 1870's as nearby mines in Aurora, Nevada, were producing well. About 1875, a rich strike of gold ore was discovered after a mine cave-in. The rush was on! Even the severe winter of 1877-78 did not deter the miners. Mining companies formed and stocks jumped to fifty dollars a share. Stamp mills crushed ore from the mines around the clock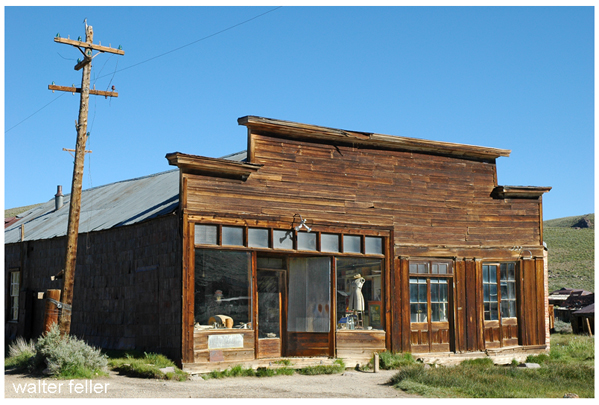 Gold fever spread like wildfire amongst all those who wanted to "get rich quick". The cry, "Good-bye God, I'm going to Bodie" was only half jest. During its heyday (1877-1881) Bodie rose to a population of approximately 10,000 and acquired over sixty saloons and dance halls. Bodie became known as the "most lawless, wildest and toughest mining camp the far west has ever known". The "Bad Man from Bodie" walked the seldom quiet street, and killings occurred with regularity.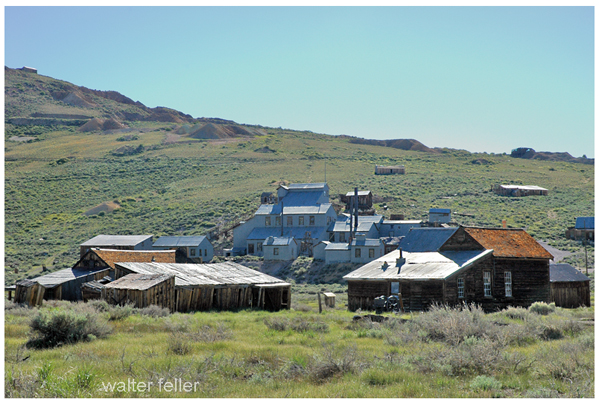 Other businesses profited during Bodie's Boom. A steady supply of wood was needed to power the mills and warm the houses. The Chinese provided this by the "mule load" until the Bodie-Benton Railroad was completed to transport heavy loads of lumber and firewood. A room, with meals, was between $1.00 - $2.00 a day, general stores and saloons provided the necessities of life, and the oldest profession of the mining camps was practiced by the women of Bonanza Street. Yes siree, Bodie had just about all a man could ask for.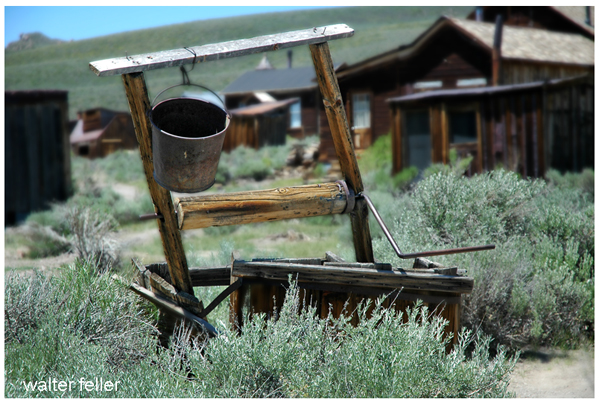 Bodie's heyday was short-lived. After 1881, mining diminished and homes and businesses were abandoned. The town was threatened by a disastrous fire in 1892, when many homes and buildings were destroyed. The advent of electrical power to run the stamp mill and the introduction of the cyanide process for working the mill tailings aroused interest once again; however this rise was also short-lived. While playing with matches, 2½ year-old "Bodie Bill" was blamed for starting the 1932 fire which destroyed all but 5-10 percent of the town.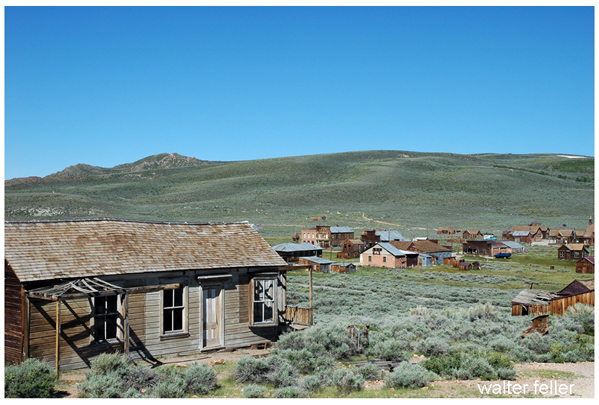 Source:
California State Parks



Historic Photos
Bodie ghost town on the eastern slope of the Sierra Nevada mountain range in Mono County, California, United States, about 75 miles (120 km) southeast of Lake Tahoe, at an elevation of 8369 feet (2550 m).

Gold was discovered in 1859 by prospector Wakeman S. Bodey, who the town was named after. Bodey died in November making a supply trip and becoming stranded in a blizzard.

In 1876, the Standard Company discovered a profitable deposit of gold transformed Bodie from an isolated mining camp of few prospectors to a boomtown.

Bodie was famous for its lawlessness. At its peak in 1880, it had 60 saloons. Murders, brawls, and stagecoach holdups were constant occurrences. Legend has it that a little girl, upon finding out that her family was moving there, prayed one night, "Goodbye God, I am going to Bodie."

Gold bullion from the town's nine stamp mills was shipped to Carson City, Nevada accompanied by armed guards. Once the bullion reached Carson City, it was sent by rail to the San Francisco mint.

In 1893 the Standard Company built its own hydroelectric plant, located approximately 13 miles away on Green Creek, above Bridgeport, California. The plant developed a maximum of 130 horsepower and 6,600 volts alternating current to power the company's 20-stamp mill. This pioneering installation was one of the first times an electric motor was operated over long-distance power lines.

Bodie's Chinatown, had several hundred Chinese residents at one point. The Chinese workers earned their incomes mainly from selling vegetables, operating laundries, and cutting, hauling, and selling firewood. Winter temperatures in Bodie would often fall well below zero, and winds reaching nearly 100 miles per hour would sweep across the high open valley. Large amounts of firewood were needed to keep residents warm through the long winters. Many ill-prepared towns folk perished during the extremely harsh winter of 1878-1879.

Today Bodie is an authentic, intact ghost town. Bodie is currently a State Historic Park. Visitors walk the deserted streets of a town that once had a population between 7,000 and 8,000 people. Interiors remain as they were left and in some cases stocked with goods. The remains of Bodie are being preserved in a state of arrested decay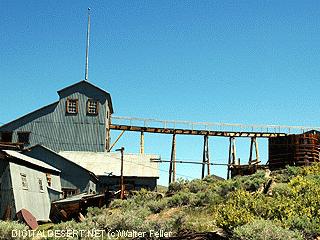 The Standard Mill is the largest and most well preserved examples of an ore processing plant used during the period. For an explanation of how a stamp mill operated, see the Stamp Mill in detail page.

***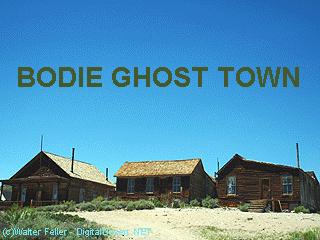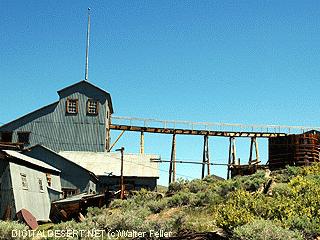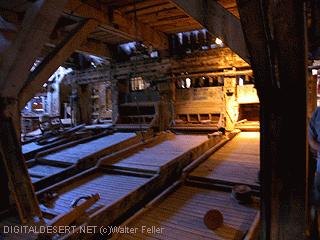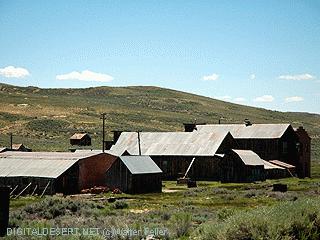 Location – Directions
The park is northeast of Yosemite, 13 miles east of Highway 395 on Bodie Road (Hwy 270), seven miles south of Bridgeport.

From U.S. 395 seven miles south of Bridgeport, take State Route 270. Go east 10 miles to the end of the pavement and continue 3 miles on a dirt road to Bodie. The last 3 miles can at times be rough. Reduced speeds are necessary. Call the park if there are any questions about road conditions.

Latitude/Longitude: 38.2122 / -119.0111Facilities and Activities

Bodie is a ghost town. Today it looks much the same as it did over 50 years ago when the last residents left. To preserve the ghost town atmosphere, there are no commercial facilities at Bodie, such as food or gasoline. There is a bookstore inside the museum where you may also inquire about daily tours.

Restrooms (flush toilets) are located at the parking lot and the picnic area.

Souvenirs and Collecting
Everything in Bodie is part of the historic scene and is fully protected. NOTHING may be collected or removed from the park. Metal detectors are not allowed.

Closed Areas
For public protection, certain unstable sections of the park are posted as prohibited areas, and are closed to entry by park visitors.

Camping
There is no camping at Bodie. Contact U.S. Forest Service or Bureau of Land Management offices for nearby camping information.

Winter Visits
Bodie is open all year. However, because of the high elevation (8375 feet), it is accessible only by skis, snowshoes or snowmobiles during winter months. Snowmobiles must stay on designated roads in the Bodie Hills.

Winter weather is often unpredictable. Sub-zero temperatures, strong winds and white-out conditions are common. Many four wheel drive vehicles with chains get stuck each year in powdery snow. In Spring, mud can be a problem. Local towing services, when available, can be costly.