Mojave River - Barstow Area
Afton Canyon
click the photo to go to the gallery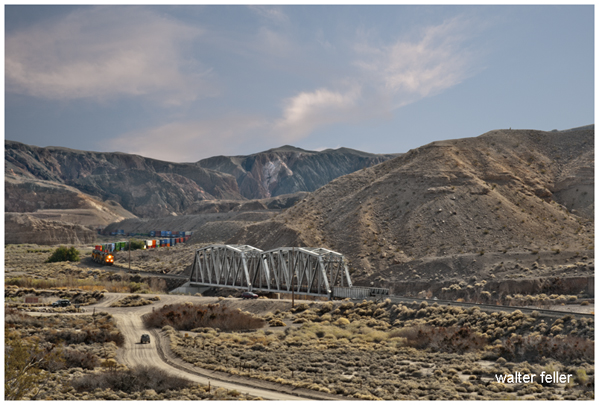 Afton Canyon Natural Area is located 37 miles northeast of Barstow along Interstate 15 between the Afton Road and Basin Road exits. Afton Canyon is designated as an Area of Critical Environmental Concern to protect plant and wildlife habitat, and to preserve scenic values of the riparian area within the canyon.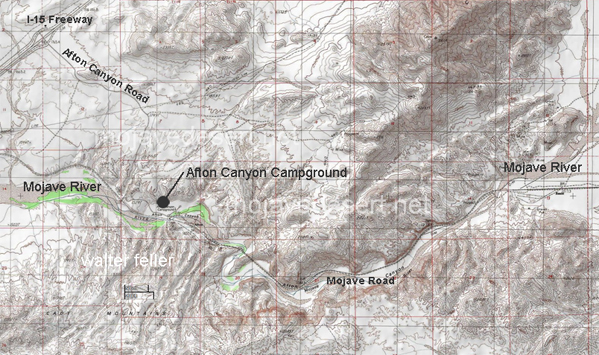 Natural History
Afton Canyon was carved by water draining from ancient Lake Manix, very likely through a crack caused by a strong earthquake along the Manix Fault about 15,000 years ago. Water eroded the colorful soils and rocks eventually carving the canyon as you see it today. The process countinues slowly as the Mojave River flows gently through the canyon floor, hence the nickname 'Grand Canyon of the Mojave'.


Human History
Humans left unwritten evidence in the form of stone tools and pottery estimated to be at least 8,000 years old. Written history begins with missionaries, traders, and explorers in the late 1700's progressing with military scouts in the late 1860's and railroad building around the turn of the century.

Early western explorers passing through this area included Jedediah Smith, Kit Carson and John Charles Fremont. The route following this road, known as the Mojave Road, is a rugged 4-wheel-drive scenic tour running from Fort Mojave on the Colorado River near Needles to Camp Cady near Harvard Road east of Barstow.
Activities
Afton Canyon is one of few places where the Mojave River flows above ground making Afton an ideal location for bird and wildlife viewing. The area is ideal for hiking, hunting, camping, nature study, rock hounding, horseback riding, and vehicle touring. Check local weather forecasts before visiting the area. Thunderstorms can result in flash floods in canyons and washes. Tell a friend or neighbor where you are going and when to expect your return. Bring sufficient water, food, clothing, tools, and first aid supplies for your activity.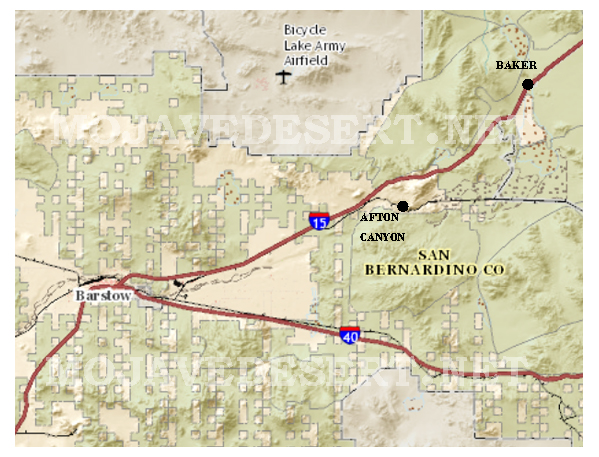 The Afton Canyon area is a mix of public and private lands including those held by the Southern Pacific Railroad. Please respect the rights of private land owners. Land status can be found on Desert Access Guide maps covering this area and can be purchased at California Desert BLM offices.
Hiking and Sightseeing
Bring your camera and binoculars! Afton Canyon has a diverse landscape of hills, canyons and washes. Multicolored rock walls and changing light conditions make for many photographic opportunities. Washes and stream channels are good hiking trails and excellent for experiencing natural conditions.

Wildlife viewing is best during early morning and evening hours. In the canyon, birds tend to gather in thick vegetation. Along washes and streams, vegetation is critical for wildlife food and shelter. Many routes in Afton Canyon have been closed to vehicle travel to protect these wildlife habitats.
Motorized Vehicle Use
Within this Area of Critical Environmental Concern, routes are posted with "OPEN ROUTE" markers. Routes have been selected to allow access to the area and to the Mojave Road while preserving riparian (stream-side) environments. Use of all vehicles is permitted only on designated open routes.

BROWN markers with route numbers indicate an OPEN ROUTE for use by motorized vehicles.

RED markers indicate routes that have been CLOSED to all vehicle travel.

No marker indicates a CLOSED route.

Within the Afton Canyon area, travel is restricted to designated OPEN ROUTES.
Camping
Camping is permitted only in the Afton Canyon Campground. This campground is a first-come first-served fee area. There are tables and fire grates at each campsite. Pit toilets are located in the center of the campground. Backpacking is welcome, however campfires are not permitted outside the designated campground.

Safety:

Weather extremes and poisonous snakes are desert hazards common to this area. Afton Canyon has a flash flood risk as well. Avoid low-lying areas during storms and remember that storms upstream can result in flooding, even though it is not raining in your immediate area.

Rules and Regulations:

Private land owners, legal grazing allotments, and mining operations with Operations Plans on file with the BLM within the Afton Canyon area have rights of access. It is not the intent of BLM to affect private rights or interests in the area. (This does not imply any BLM jurisdiction over private lands within the area, unless authorized by the land owner.)

Camping and campfires are not permitted outside the designated campground.

Vehicles are restricted to posted open routes.

State and federal hunting regulations are in effect during small game bird hunting seasons.

Recreational Shooting is not permitted in the Afton Natural Area.

All applicable county, state and federal laws and regulations apply.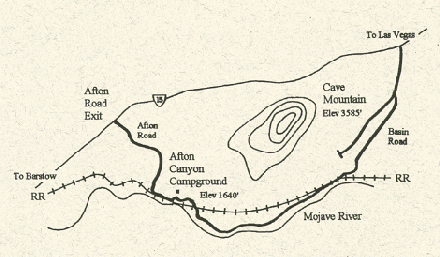 On this map, it is 3½ miles from the Afton Rd. Exit to the campground.


Afton Canyon Satellite Image
Interactive satellite image of Afton Canyon

Mojave River
The Mojave River could be called an "Upside-down and Backwards" river. "Upside-down", because the water flows below ground, under the sand. ...

Mojave River and Associated Lakes
The Mojave River is the largest drainage system in the Mojave Desert. It's modern extent and capacity is only a fraction compared to ...

Mojave Road
Long ago Mojave indians used a network of pathways to cross the Mojave Desert to reach the Pacific coast from their homes along the ...


Changing Climates and Ancient Lakes The impact of both long-term and short-term climatic oscillations can be seen on the landscape. Glaciation periods lasting many ...


Mojave Valley - Granite Mountains
Afton Canyon Photo Gallery
Sweet Afton ~ Robert Burns, 1791

Flow gently, sweet Afton! amang thy green braes,
Flow gently, I'll sing thee a song in thy praise;
My Mary's asleep by thy murmuring stream,
Flow gently, sweet Afton, disturb not her dream.

Thou stockdove whose echo resounds thro' the glen,
Ye wild whistling blackbirds in yon thorny den,
Thou green-crested lapwing thy screaming forbear,
I charge you, disturb not my slumbering Fair.

How lofty, sweet Afton, thy neighbouring hills,
Far mark'd with the courses of clear, winding rills;
There daily I wander as noon rises high,
My flocks and my Mary's sweet cot in my eye.

How pleasant thy banks and green valleys below,
Where, wild in the woodlands, the primroses blow;
There oft, as mild Ev'ning weeps over the lea,
The sweet-scented birk shades my Mary and me.

Thy crystal stream, Afton, how lovely it glides,
And winds by the cot where my Mary resides;
How wanton thy waters her snowy feet lave,
As, gathering sweet flowerets, she stems thy clear wave.

Flow gently, sweet Afton, amang thy green braes,
Flow gently, sweet river, the theme of my lays;
My Mary's asleep by thy murmuring stream,
Flow gently, sweet Afton, disturb not her dream.