Mojave River
The Ancestral Mojave River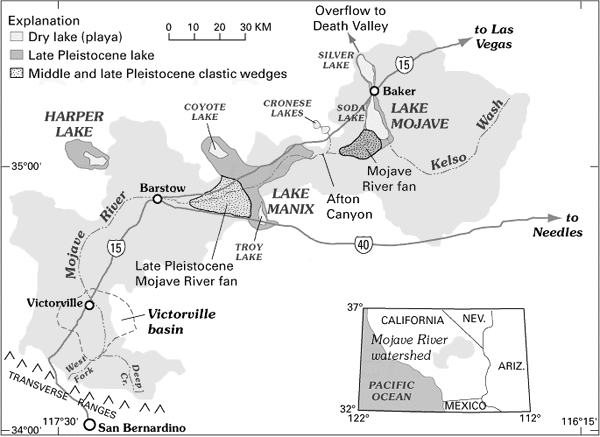 The watershed of the Mojave River = approx. 3670 sq miles (9500 sq km)
Contents



Map Reference:
Enzel, Wells, & Lancaster - Paleoenvironments and Paleohydrology of the Mojave and Southern Great Basin Deserts


USGS Mojave River Maps
Mojave River Drainage Ecology
Dry Lakes
This model was developed from a presentation titled 'The Ancestral Mojave River' By Professor Norman Meek to show what the Mojave River and its network of lakes may have looked like before the arrival of man--As a simple aid to visualize the river and its lake system from a crude geological standpoint, and not a depiction of the paleoenvironment including the flora and fauna of those times.

Programs to modify these images and produce effects such as lakes with water and removal of any manmade objects from the image were used as necessary. Unaltered photos have been used when possible.
Chronology of the Ancestral Mojave River
11-10 Ma. (million years ago)
The region sloped toward the Pacific Ocean

8-7.6 Ma.
Birth of ancestral Transverse Ranges (San Gabriel fault)

3.5 Ma.
San Gabriel Mountains rise blocking the slope to the ocean and forming marshlands. Ancestral Deep Creek coming out of the San Bernardino Range begins to appear.

2.5-2 Ma.
Continued rise of the San Bernardino Range along the San Andreas fault reverse the regional drainage direction.

1.5-1 Ma.
The development of faults further to the north and east.

.5 Ma.
Appearance of perennial lakes Harper and Manix

70-80 ka. (thousand years ago)
Ancestral Mojave River develops as an incised channel with a course.


Also see:
Mojave River
The Mojave River could be called an "Upside-down and Backwards" river. "Upside-down", because the water flows ...
Mojave River & Associated Lakes
The Mojave River is the largest drainage system in the Mojave Desert. It's modern extent and capacity is only a ...
Changing Climates and Ancient Lakes
The impact of both long-term and short-term climatic oscillations can be seen on the landscape. Glaciation periods lasting ...