Mojave River:

The Broken River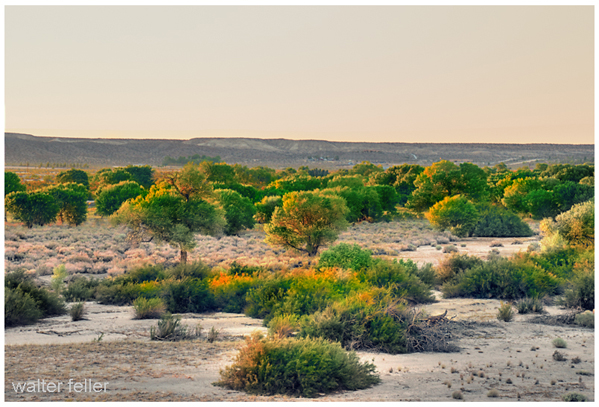 The forces that created the Mojave River made a subterranean river that flows away from the sea and far into the desert. Water from the mountains and desert plains come together in the rocks and sand where it sinks below the surface disappearing into the dry wash.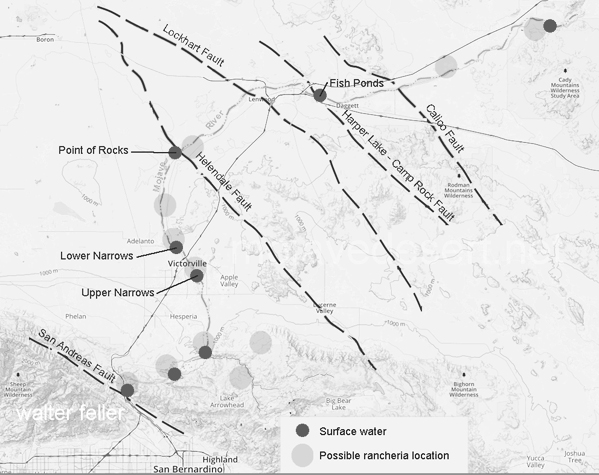 The geologic forces within the Mojave block created faults and obstructions that force the flow of this hidden river to the surface at several features along its length. With their steady supply of water these springs were thick with flora and fauna. Wildlife naturally wore trails from one waterhole to another.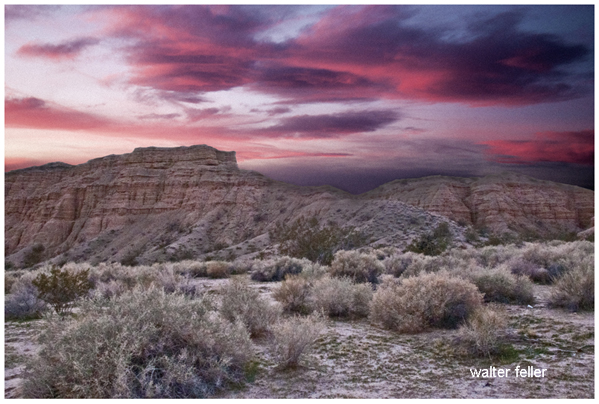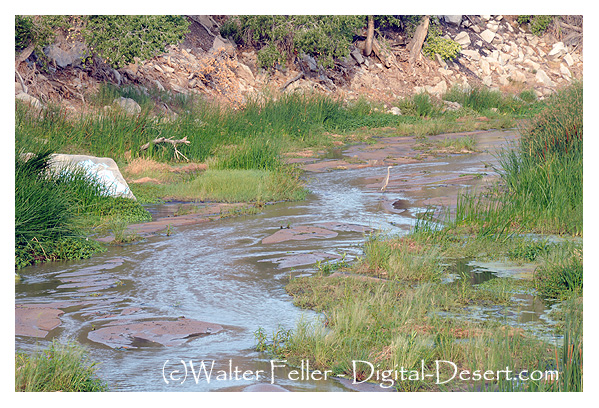 Indigenous people lived in rancherias near these water sources. Game trails developed into subsistence loops and these trails led to other springs piercing the heart of the desert. Spaced about one day's walking distance from each other, these places made it possible for man to cross the desert on foot without being overburdened by carrying water.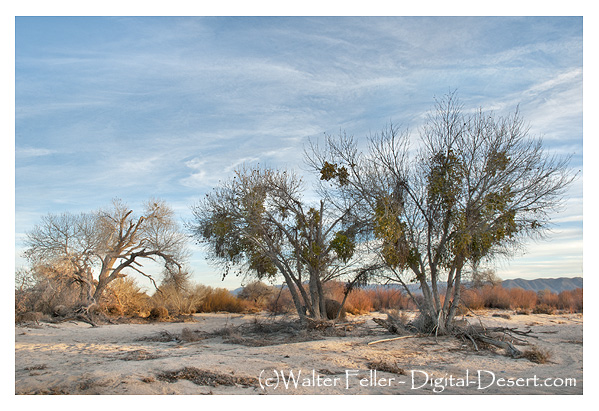 The Mojave Indians on the Colorado River used these trails to trade and communicate with their cousins, the Chumash, on the Pacific coast. Explorers, then traders found connections from the river to more springs that traced their way to Salt Lake in Utah. These springs were the niches that horse thieves would water horses stolen from the California ranchos on the furious charge to New Mexico. This corridor became known as the Old Spanish Trail while the southern trails became the Mojave Road.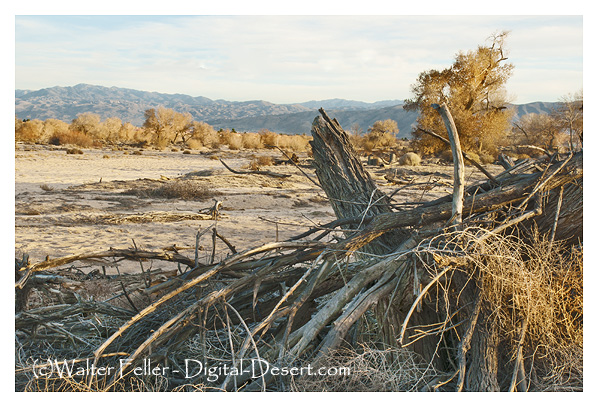 Pioneers, the 49ers looking for gold, and freighters all used these trails. With the increase in traffic the trails swayed and split apart joining again in a few miles or past a few valleys or ranges in order to accommodate the changing conditions of nature.

Railroads came through avoiding abrupt topology and adding an alternative, gradually sloping alignment. Nearly all freight crossed the Mojave by rail. Elaborate depots were built to provide first class lodging and meals at key locations.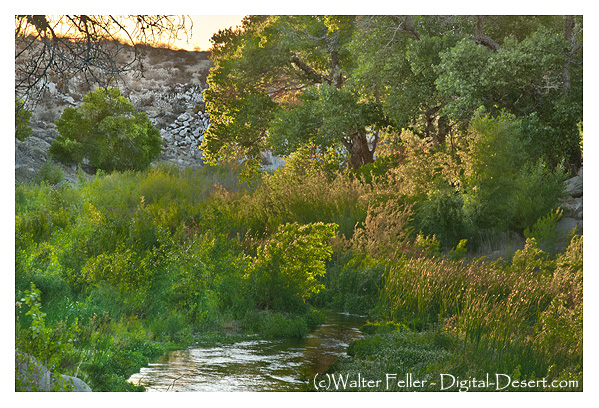 In 1913 the desert was virtually roadless. Roads were not much more than a rutted wagon trail, rough and ungraded, with sandy stretches through the wilderness. Motor travel was becoming popular. It only took 3 days to cross the desert from San Bernardino to Needles by automobile. The age of the horse and wagon was, for the most part, over by 1920.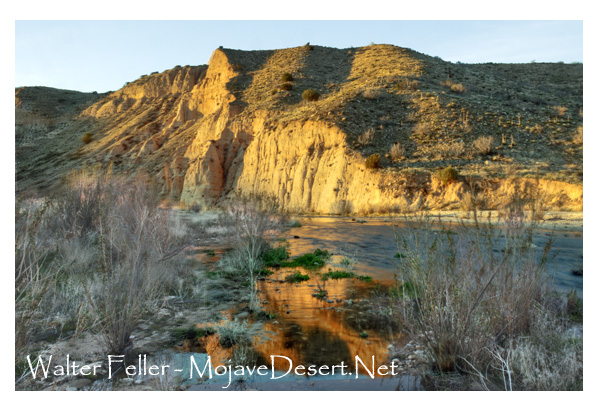 In 1926, paving was completed on the National Old Trails Highway which quickly became designated as Route 66. Variations, such as the Arrowhead Trail and Silver Lake Cutoff merged into this network.

In 1958, interstate highways were introduced. Highway design became streamlined and reflective of high speed and non-stop travel. The old two lane highways along the river were nearly abandoned. Two travel corridors persisted and ultimately became the I-15 and I-40 freeways.

Rather than perilous crossings demanding weeks of hardship and primitive travel, crossing the Mojave has become a matter of hours in relative comfort -- All generated from the fractured pieces of our Broken River.


(c)Walter Feller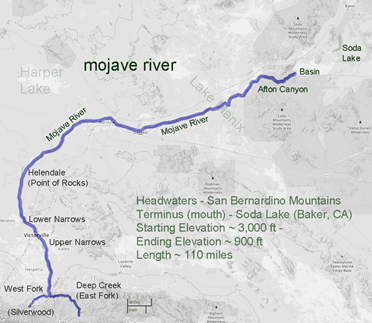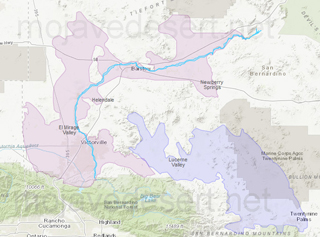 Mojave River; Fault, Groundwater, Drainage Maps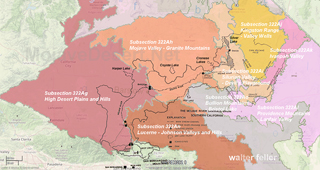 Mojave River Drainage Basin Ecology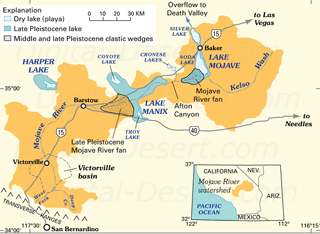 Ancestral Mojave River