Freeways & Highways
Interstate 40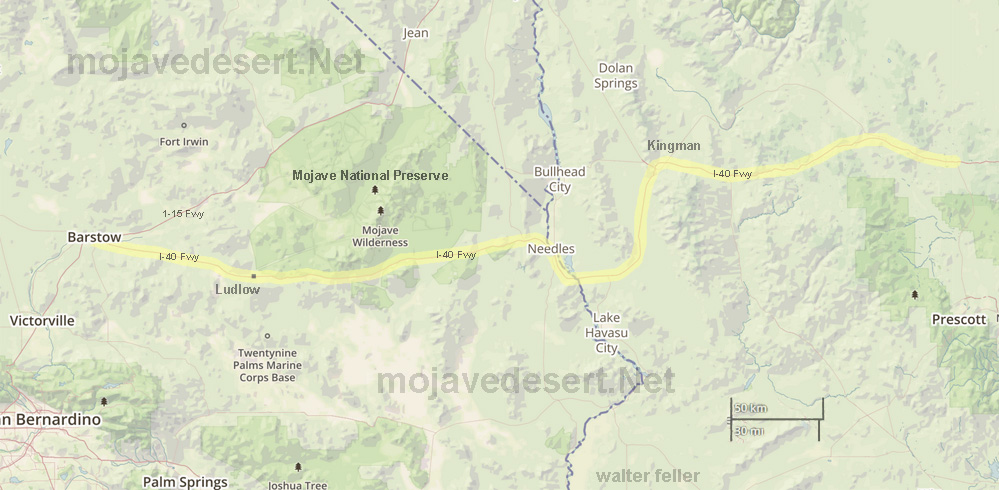 Barstow
Photo tours, features and attractions in the Barstow area ...
Route 66
In the early 1900's the route was known as the National Old Trails ...
Daggett
Downtown Daggett, CA.
Ludlow
Ludlow was famous for, 'Absolutley Nothing!', Until one day ...
Mojave Preserve
Mojave is bounded to the north and south by major interstate highways, I-15 and I-40. The Nevada–California stateline makes up most of ...
Mitchell Caverns
Located in the heart of the Providence Mountains State Recreation Area at an elevation of 4,300 feet are the Mitchell Caverns. In the ...
Needles
Needles, the "Best Kept Secret on the Colorado River," was founded in 1883. It is located on the ...
Colorado River
The Colorado River runs approximately 1,450 mi (2,330 km) from the western slopes of the Rocky Mountains ...
Havasu Wildlife Refuge
A photo tour of Topock Marsh, Havasu National Wildlife Refuge ...
Hualapi Mountain Park
A Mohave County park located outside Kingman, AZ.