Communities - Salt Lake Road
San Bernardino, CA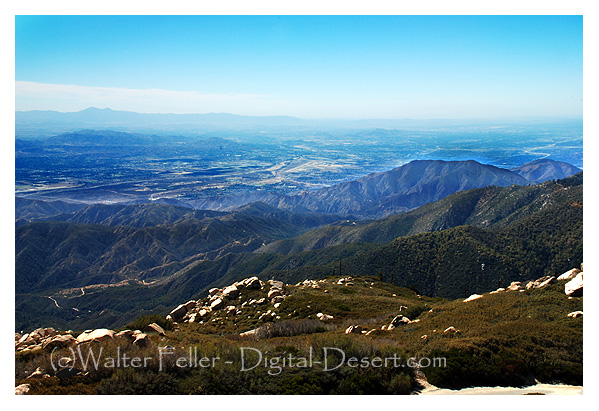 Santa Fe Depot
Asistencia
Referring pages and articles:
Mormon Pioneers
A Mormon party headed to San Bernardino in December, 1850 met William T. B. . ... The thieves were all well known, being San Bernardino "Mormons," a term ...
Clark Mountain
On Monday, August 21, a meeting was held in San Bernardino discussing the problem of ... The San Bernardino Guardian on August 24, 1872, reported that " some ...
Silas Cox Chases Horse Thieves to San Diego
One victim of theft at the beginning of the war was young Silas Cox, who, upon returning to San Bernardino from a stay on the desert, learned from his ...
Mormon Bar
At least one Swarthout returned to the San Bernardino Valley after the ... The Swarthout clan remained strong and influential in the San Bernardino area. ...
RANDSBURG MINING DISTRICT
With the location work complete in June of 1895, Burcham returned to his wife in San Bernardino to report the good news, and to turn over one-half of his ...
Captain Jefferson Hunt
Hunt, of San Bernardino (our guide from Salt Lake in 1849), ..... Hunt, the man who was hired in the fall of 1849 to bring the big train from Salt Lake to . ...
Desert Fever
He then legalized his claim by recording it in the San Bernardino County courthouse .... San Bernardino County is not only the largest county in California, ...
IVANPAH MOUNTAINS
He advertised in the San Bernardino Weekly Times for a teen-age boy to do the same work ... San Bernardino Weekly Times : March 8, June 14, October 18, 1879 ...
TWENTYNINE PALMS
The San Bernardino Guardian on November 29, 1873, gives the account of the discovery of .... In the 1970s a San Bernardino area resident named Hugh Huebner ...
ORO GRANDE-SILVER MOUNTAIN
In January, 1873, the San Bernardino Guardian reported that near Lane's Ranch, ... May, 1880, A. J. Spencer brought a rock into San Bernardino that assayed ...
Camp Cady
Located about 20 miles east of Barstow, San Bernardino County, Camp Cady was posted on April 14, 1860, in compliance with an order by General N. . ...
The Swarthouts - Mormon Pioneers
The December 20, 1938 issue of The Sun (A San Bernardino newspaper), gave the following praise of this man and his brothers that came to the area with him, ...
Pioneer of the Mojave
Added to this turmoil was the anti-U.S. climate in San Bernardino, ... With the onset of the Civil War, San Bernardino began to see an increase in . ...
Rock Spring Mining District
Also during the month a team hauled a load of supplies from San Bernardino to the area. In July came this report: "We have heard of many persons who have ...
Railroads of the Mojave Desert
Judge Boren urged the construction of a "railroad or otherwise" to connect San Bernardino with Anaheim. In September, Mr. L. F. Loveland, vice-president of ...
Citizens on Desert Left Unprotected
Henry Parrish and the Bemis brothers, all San Bernardino stockmen, ... John Mayfield, a San Bernardino rancher, was on his way to try his luck in the mines ...
Fort Piute, Fort Beale, Fort Piute Hill
The fort, actually a subpost of Camp Cady, was one of a chain of military stations erected to protect the travel route from San Bernardino across the Mojave ...
Timeline of History of the Mojave Desert
1826 Jedediah Smith explores a route across the Mojave from the Colorado River to San Bernardino 1827 The vanguard of a large party of fur trappers and ...
Mormon Battalion
The migration of Mormons to and from Salt Lake City through San Bernardino to San Diego re-established the Old Spanish Trail from Santa Fe to Pueblo de los ...
Mojave Desert Mining History - Providence & the Bonanza King
Sometime around the spring of 1881, J. D. Boyer and H. L. Drew, San Bernardino businessmen, purchased the mine. In June, 1881, they also paid $20000 for the ...
DRY LAKE AND VICINITY
The party was headed by Dr. C. G. Campbell, a San Bernardino doctor who had been given half-interest in any discoveries. They were successful in their ...
Pauline Weaver
From Father Kino's old rancho of San Bernardino near modern Douglas, Cooke's wagon ... From Appendix A - digital.hannibal.lib.mo.us/Rev%20Stevens/appendix. ...
Rose-Bailey Wagon Train
Despite the fact that San Bernardino was only 200 miles away and Albuquerque, 560 miles, they decided to turn back (Sherer 1994:85). ...
Cahuilla Indians Bibliography and Sources
... Ethnohistory of Western Riverside County, California" (1997); and Beattie and Beattie's Heritage of the Valley: San Bernardino's First Century (1951). ...
Major General James Henry Carleton
Posts at San Bernardino Camp Dolores Camp Carleton, John Charles Fremont · Edward Fitzgerald Beale · James Henry Carleton ---- The Owens Valley Indian War . ...
Isaac Slover
By 1843, Slover had established himself and his family in California, settling near San Bernardino. He continued to trap and hunt in the region, ...
Mojave Desert - John Brown
The toll road was associated with John Brown from the very beginning, ... John Brown's daughter, Louisa, who married San Bernardino attorney Byron Waters, . ...
Mojave Desert - Chief Juan Antonio, Cahuilla Indian
Chief Juan Antonio and his band of Cahuilla Indians helped white settlers in the San Bernardino area defend their property and livestock against outlaws ...
Chemehuevi History - American Period
The other lay along the Mojave River between Mojave Valley and Cajon Pass to San Bernardino. The Project Area lay between these two routes, ...
The Mint at the Mescal Mine
and if you ever come here again I shall send you to San Bernardino to jail." ... I Will See ... They scrambled rapidly down toward us, while Davis and ...
San Bernardino County
San Bernardino County is not only the largest county in California, but it is the largest in the United States. As a county it has been uniquely endowed ...
Mojave Desert Cities and Towns
Bear Valley Springs, Kern. Big Bear City, San Bernardino, San Bernardino Mountains ... Mountain & Desert Cities and Towns by County; San Bernardino County ...
Angeles National Forest
The San Andreas fault forms a continuous narrow break in the Earth's crust that extends from northern California southward to Cajon Pass near San Bernardino ...
Cajon Pass
Rest stop for Mormon travelers on the Mormon Road on the way to San Bernardino. Unusual sandstone rock formation created by San Andreas fault. ...
Phelan California (CA)
Only 90 minutes from Los Angeles, 30 minutes from San Bernardino and 15 minutes from Victorville, Phelan stands out as a down to earth community filled with ...
The San Andreas Fault, forecasting the Next Large Earthquake
Along the Earth's plate boundaries, such as the San Andreas fault, ... of other cities in San Bernardino, Riverside and Imperial counties in California. ...