by Alice Hall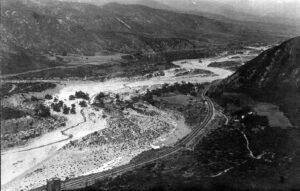 This photo taken by either the Baileys (station masters at Cajon Station) or the Ehwegens, pronounced Ay-vay-gen (station masters at the Keenbrook Station) from Applewhite Road between 1911 and 1918, shows Cajon Creek.
The buildings along the railroad and near the lower right corner are Keenbrook.
I'm guessing that the large clear area against the San Bernardino hills nearing the upper left corner would be Freedom Acres when Anna Mills owned it in the 1970s, which was formerly owned by Obst.
Another guess is that the white line coming down the hill points to the Mathews and Hall Ranches. Those places were homesteaded in the 1920s by Francisco and Esperanza Luna and Mr. and Mrs. Francisco Nunez. Monte Mathews and his stepfather, Dr. Henderson Pittman, bought the Luna place. The Nunez place passed through several owners, including Edward and Edna Soehanel, before Harry and Ione Hall bought it in 1952.
Other early homesteaders by the creek were the Fears family, Jerry and Rebecca (Fears), Vincent, and Henry Clock.