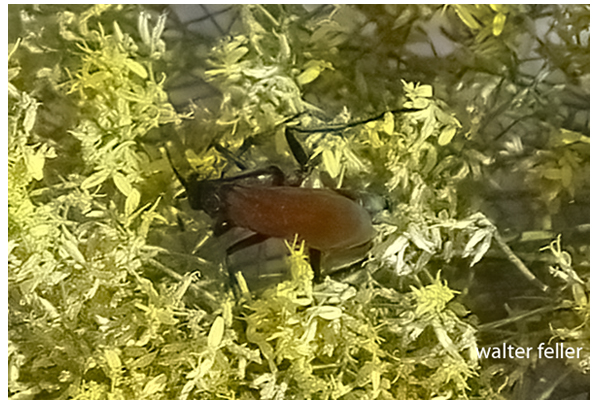 The tarantula hawk wasp is a large and impressive species of wasp known for its distinctive and painful sting. These wasps are primarily found in the southwestern United States, Mexico, and parts of Central and South America. Here are some key characteristics and facts about the tarantula hawk wasp:
Size: Tarantula hawk wasps are among the largest wasps in the world, with a body length that can reach up to 2 inches (5 cm).
Coloration: They are usually brightly colored, with black bodies and iridescent blue or black wings. The coloration may vary among species.
Venomous sting: Tarantula hawk wasps are solitary predators, and their primary prey is tarantulas. They paralyze the tarantula with their potent venomous sting, then lay an egg on the immobilized spider. The larva that hatches from the egg feeds on the paralyzed tarantula.
Painful sting: The sting of a female tarantula hawk is considered one of the most painful insect stings in the world, and it is rated as a 4 on the Schmidt Sting Pain Index, created by entomologist Justin Schmidt. The pain from the sting can be excruciating and may last for several minutes.
Solitary behavior: Tarantula hawk wasps are solitary insects, meaning they do not form colonies or nests like social wasps such as yellow jackets or paper wasps. Each female hunts for and provisions her own prey.
Males vs. females: Male tarantula hawk wasps are typically smaller than females and do not have a stinger. Their primary purpose is to mate with females.
Habitat: These wasps are often found in arid or desert regions, where tarantulas are more abundant. They are also commonly spotted near flowers, as they feed on nectar and other plant fluids in addition to hunting for tarantulas.
Flight: Tarantula hawk wasps are known for their agile and powerful flight. They can be seen soaring through the air in search of tarantulas or nectar-rich flowers.
Defensive behavior: Although tarantula hawk wasps are not typically aggressive toward humans, they will defend themselves if they feel threatened. It's best to observe them from a safe distance to avoid getting stung.
Conservation: These wasps play a role in regulating tarantula populations, and they are considered beneficial in their ecosystems. However, they are vulnerable to habitat loss and pesticides, which can impact their populations.
In summary, the tarantula hawk wasp is a fascinating and somewhat intimidating insect known for its painful sting and unique predatory behavior. While they can deliver a formidable sting, they are generally not aggressive toward humans unless provoked.