by Alice Hall
The other day I ran a photo of Hilda Wharton Schultz, and I thought a few memories of the area directly from Hilda would be appreciated. The photo, taken from the Blue Cut rock retaining wall, is of the Carlo home she mentioned.
HILDA'S STORY
By Hilda Wharton Schultz
Stories of Devore? Anyone who's lived there could come up with pages of stories. My memories contain lots of stories of the Devore area.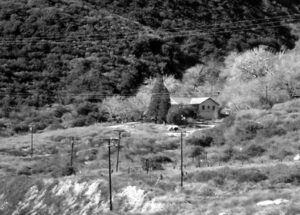 My mother, Cora Wharton, was widowed young in West Virginia, and raising three daughters alone was difficult. We moved from a relative's home in Arkansas to Fontana and from Fontana to Lenhardt's 80 acres (now shown on Forestry maps as Ruddell Hill). We stayed there and took care of his many goats. After the 1938 flood, which trapped us on the hill for three weeks, we moved to Holcomb's place in Verdemont. When we left in 1941, we lived for three years at the Obst place to watch their son Artie and care for the many goats. That place later became known as Anna Mill's Freedom Acres across the canyon from Lenhardt's, set back from Highway 66. Mr. Obst was the manager of Harris's Department Store. (And Dr. Lenhardt, a veterinarian, had married Norma, the daughter of a Devore poultry farmer.
During the war (WWII), my sister Joanna and I used to go up to Clyde Ranch on Lone Pine Canyon Road. There was a tower there, and we used to spot airplanes for civil defense. I remember a little schoolhouse below Carlo's big house that was washed out in the flood of 1938.
I remember election polls at Blue Cut. I remember that Kaylen's place, the green house at Keenbrook, used to have a post office in it (that house has been replaced by a modular), and I remember the little post office on Cajon Blvd. later on. I remember hiking through the hills near Blue Cut (behind Gem Ranch up near the Heby place) and having my hackles rise when I realized something was following me. I never saw it, but I'm pretty sure it was a cougar.
I remember when Minnie Bradley, who bought my Keenbrook place, got her car stuck on the railroad tracks when it ran off the road a little. I could flag down the engineer, and he stopped in time and helped us move the car.
I remember the wide spot where the helper train engines could turn around to go back to town after making the grade. The turn-around was way past Cozy Dell, but on the other side of the wash. It was a big flat place where lots of tracks intertwined.
I remember when there were holding pens for cattle at the Summit and Ed Barnes' unusual way of killing rattlesnakes- Fire probably is not the best tool for that job.
Hervey Bailey used to tell me some pretty interesting stories about living at Keenbrook. He used to ride the stagecoach from Keenbrook up to Victorville to eat at the Harvey House. He also enjoyed riding the 20-mule-team Borax wagons. He's the one who homesteaded the Keenbrook area that included the place where I lived for a time.
I remember, after leaving Keenbrook for Verdemont (I lived at the Houghton place at the top of Palm), coming back to Devore almost every day to clean houses for people or care for their livestock while they were away. I worked for Kendall and Mary Rose Stone and Roger and Alice Hall. That's where I learned never to trust a ram. I also worked for Superior Court Judge Edward P. and Jane Fogg in north San Bernardino.
Editors note: I met Hilda at my dad's feed store in 1961. She started working for us during holidays and judging junkets in 1962. She was completely reliable and trustworthy and knew her livestock unbelievably well. We visited her both at her little bungalow tucked between the railroad tracks at Keenbrook and the Houghton place in Verdemont. I've always said that everyone needs a Hilda, and I miss having that kind of help since she retired.