by Alice Hall
I had a request for information on Casa Maria, so here is a photo from 2007 along with what little I know. This cute little A-frame building was a popular café, The A-Frame Eatery, at Blue Cut when Highway 66 was in its prime. The A-Frame had other owners and was often used as a rental after it became Gem Pines, owned by Gerry and Glenda Bayless of Gem Ranch across the 66. Now it is an adorable worship center called Casa Maria.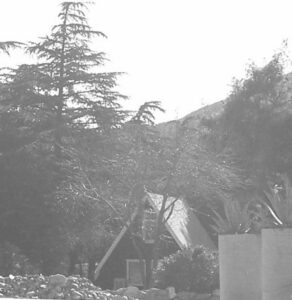 Nearby was the Blue Cut Garage and a restaurant owned by the Hickmans since 1929. They moved their business to the 395 cutoff in 1950 when they heard about the freeway plans. Tom Shepherd purchased it, but Bob and Julie Gauthier converted the restaurant into a residence and have lived there for over 40 years.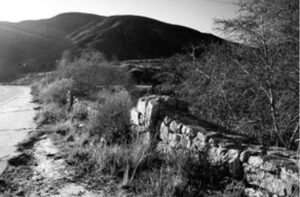 The second photo is of the rock retaining walls along Rt. 66 at Blue Cut, which gets its name from the Pelona Schist in the hills that shows color when cut during construction. The walls were designed by B.A. Switzer and built by Olie Dahl to keep motorists from going off Rt. 66.