From the revised Journals of Jedediah Smith edited by Walter Feller
About 18 miles from the first mentioned creek, we crossed another 80 yards wide in appearance like the first, and three miles further came to a farm. In this distance, we had passed many herds of cattle belonging to the residents of the Angel village and some thousands of wild horses. The wild horses sometimes become so abundant to eat the grass relatively clean.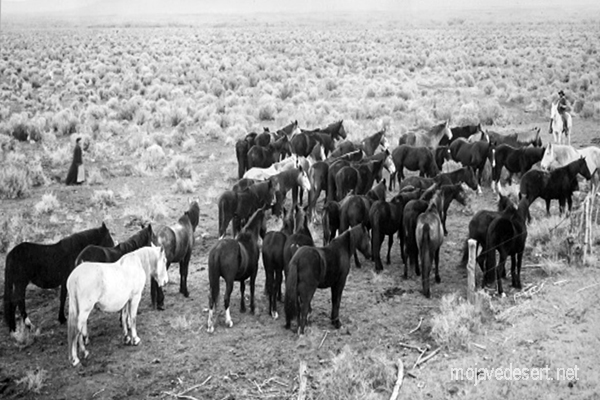 My guide informed me that the village's inhabitants and vicinity collect whenever they consider the country overstocked. They build a large and sturdy pen with a small entrance, and two wings extending from the access to the right and left. Then mounting their swiftest horses, they scour the country and surrounding large bands; they drive them into the enclosure by hundreds.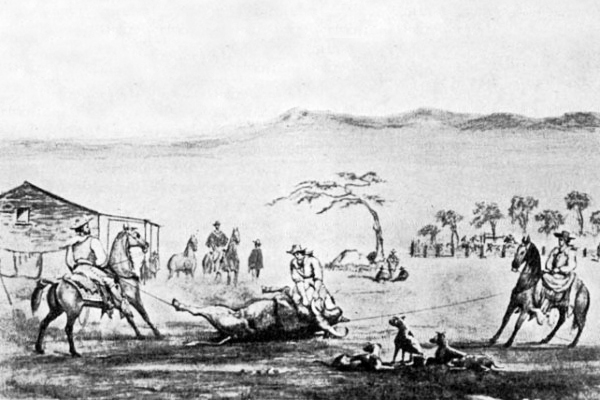 The California Method – Edward Vischer, 1874
They may lasso a few of the most handsome and take them out of the pack. A horse selected in this manner is immediately thrown down and altered, blindfolded, saddled, and haltered (for the Californians always commence with the halter). The horse can then get up, and a man is mounted. When he is firmly in his seat and the halter in his hand, an assistant takes off the blind the several men on horseback with handkerchiefs to frighten and some with whips to whip-raise the yell, and away they go. The poor horse, so severely punished and spooked, does not think of flouncing but dashes off at no slow rate for a trial of his speed. After running until he is exhausted and finds he cannot eliminate his enemies, he gives up.
He is tied for 2 or 3 days, saddled, and ridden occasionally. If he proves docile, he is bound by the neck to a tame horse until he becomes attached to the company, then let loose. But if a horse proves immediately refractory, they do not trouble themselves with him long but release him from his bondage by thrusting a knife to his heart.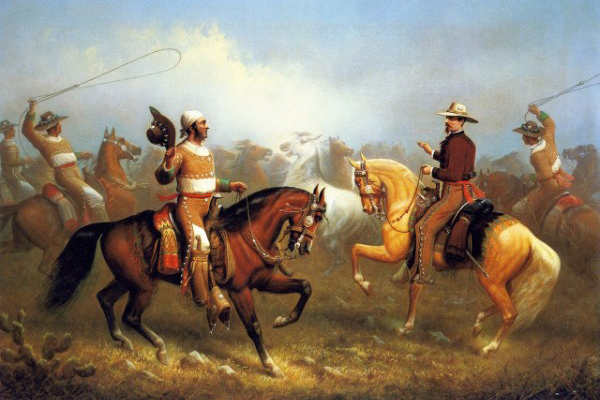 Cruel as this fate may seem, it is a mercy compared to the hundreds left in the pack, for they die a most lingering and horrible death within a narrow space without the possibility of escape. Without a morsel to eat, they gradually lose their strength and sink to the ground making vain efforts to regain their feet, when at last, all-powerful hunger has left them, the strength to raise their heads from the dust, their eyes becoming dim with the approach of death, may catch a glimpse of green and widespread pastures and winding streams while they are perishing from want.
They die one by one, and at length, the last and strongest sinks down among his companions to the plain. No man of feeling can imagine such a scene without surprise, indignation, and pity. Indignation and wonder that men are so heartless and unfeeling. Pity for the noblest of animals dying from want amid fertile fields. A disgraceful fact to the Californians not credited to a single narrator but has been since corroborated.
–