[Satire]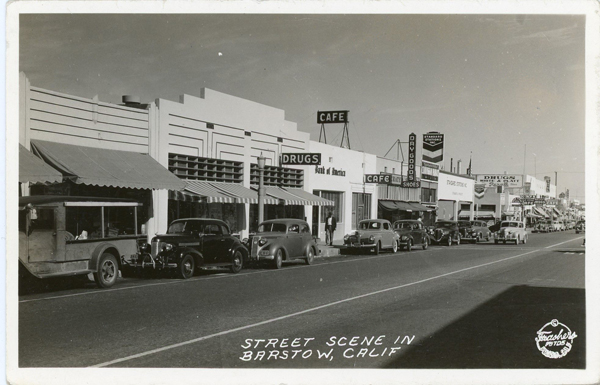 Barstow is a quaint desert town in the California California Mojave Desert. It is a charming and idyllic community reminiscent of a bygone era, embodying the small-town charm, close-knit community, and wholesome values the down-home television shows of the 1960s portrayed.
Barstow is the epitome of a tight-knit community where everyone knows each other's names and looks out for one another. The town's law enforcement is said to be a sheriff, much like Sheriff Andy Taylor on The Andy Griffith Show. The sheriff and his deputy are said to be friendly and approachable, always ready to lend a helping hand or offer sage advice to the town's residents.
The local courthouse in Barstow is the central hub of activity, where comedic court cases unfold, and justice is served with a dose of humor and common sense. The courthouse is presided over by a kind-hearted judge who handles the town's legal matters with fairness and a touch of levity.
Barstow's main street is a bustling thoroughfare lined with quaint shops and businesses. The local diner serves classic comfort food, and the town's residents often gather for coffee and conversation. The Twilight Zone-esque atmosphere would be characterized by friendly exchanges, where neighbors catch up on each other's lives and share stories over a slice of pie.
The residents of Barstow embody the values of honesty, integrity, and community. These folks gather for town meetings and events, fostering a strong sense of civic pride and unity. The local school is a community pillar where children receive an education rooted in small-town values and respect for tradition, God, and Country.
Barstow is where time seems to stand still. The pace of life is slower, allowing residents to savor the simple joys of everyday living. The town's natural beauty, with its desert landscapes and clear starry nights, would provide a serene backdrop for the residents' lives.
Barstow encapsulates the essence of a simpler time, where kindness, humor, and community reign supreme. Residents feel a sense of belonging, and visitors are welcomed with open arms. Barstow has become a charming oasis in the California desert, capturing the hearts of all who enter its borders.
Come to Barstow and buy me a slice of pie!
~ Paul Tall
[/satire]
My apologies to Barstow Law Enforcement.