FEDERAL GRAND JURY.
They Are Investigating the Oro Grande Train Robbery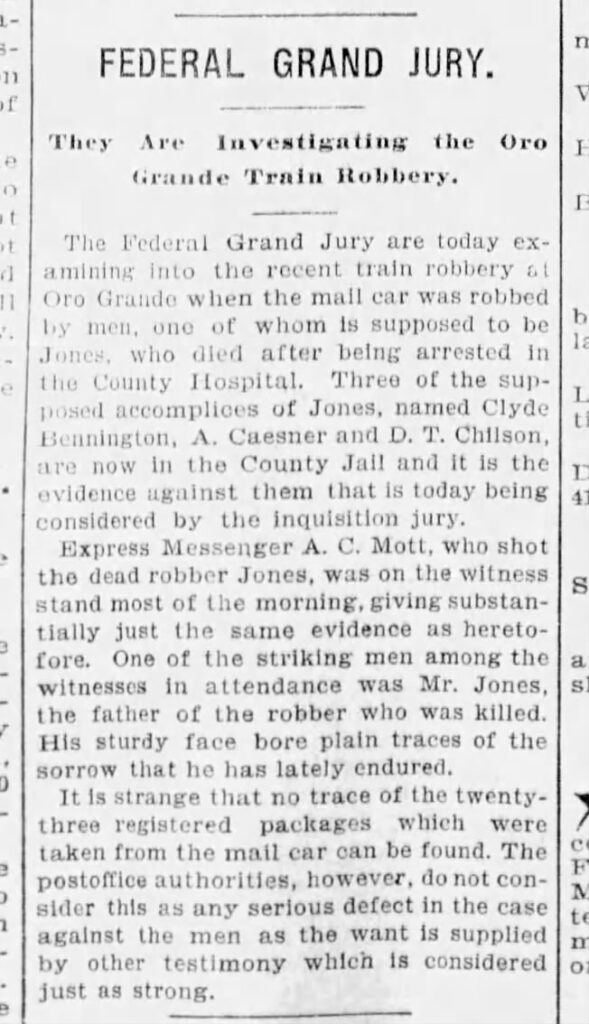 The Federal Grand Jury are today examining into the recent train robbery at Oro Grande when the mail car was robbed by men, one of the men is supposed to be Jones who died after he was arrested at the County hospital.
Three of the supposed accomplices of Jones, named Clyde Bennington, A. Caesner and D. T. Chilson, are now in the County Jail and it is the evidence against them that today is being considered by the inquisition jury.
Express Messenger A. C. Mott, who shot the dead robber Jones was on the witness stand most of the morning, giving substantially just the same evidence as heretofore. One of the striking men among the witnesses in attendance was Mr. Jones, the father of the robber who was killed. His sturdy face bore plain traces of the sorrow that he has lately endured.
It is strange that no trace of the twenty-three registered packages that were taken from the mail car can be found. The post office authorities, however, do not consider this as any serious defect in the case against the men as the want is supplied by other testimony, which is considered just as strong.