by Alice Hall
This portion of an 1875 Los Angeles and Independence Railway map shows John Brown's Toll Road from Martin's Ranch (Glen Helen) to Fears House, the upper tollgate. The lower toll gate (Blue Cut) was eventually moved to Faurot House, later called Bear Flat Ranch and Cozy Dell. The site of the Vincent house is now the San Bernardino Water Company property and the Glen House is Keenbrook. Rebecca Fears, daughter of the upper tollgate keeper, married Jerry Vincent.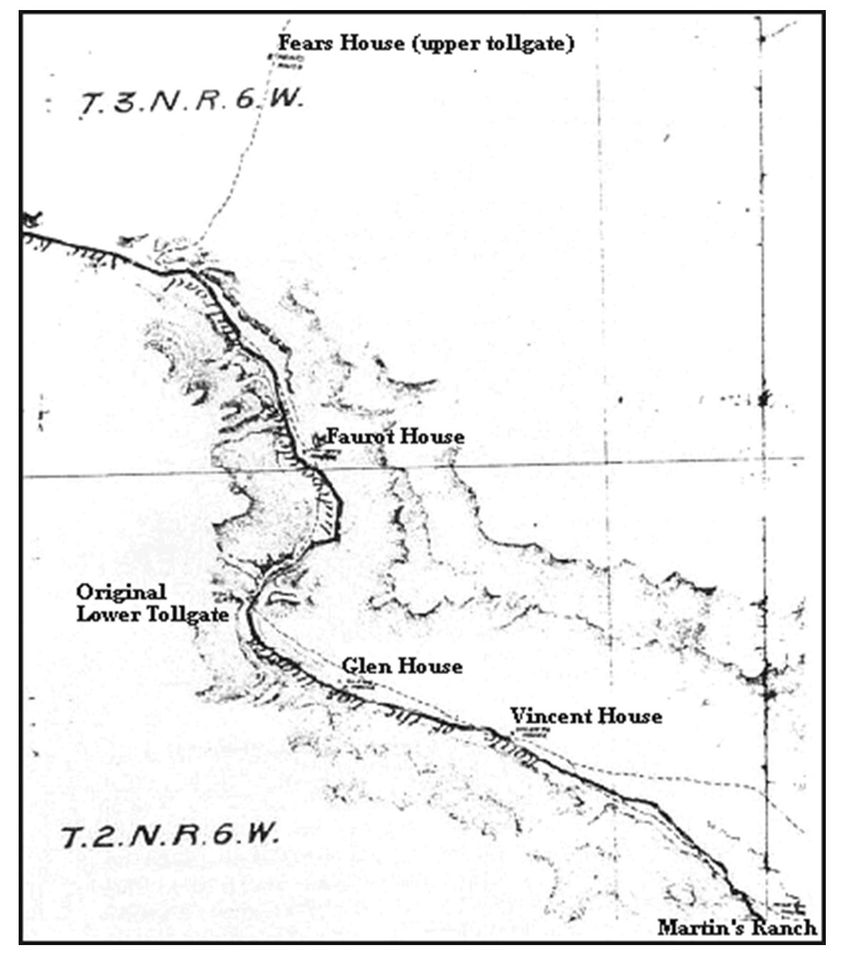 Let's see if I can itemize some of the other Keenbrook settlers besides the Glenns and the Keens.
William Gould Bailey, a printer by trade, raised bees in Bailey Canyon high above Verdemont around 1866. When fire destroyed his enterprise, he moved to Keenbrook and started a poultry farm. He was one of the co-purchasers with the Keens. Shortly after his marriage to Cinderella, he was called back to San Francisco to claim his son from a previous alliance, Hervey, whose mother had just died. William had been working in San Francisco with Waterman.
May Schultz and her sister Kate were housekeepers for the railroad, and Hervey Bailey married May.
Hervey Bailey homesteaded the Keenbrook place, and when his natural son, Ray, died, he deeded his property to the boy he'd raised, May's son, Frank Schultz. Future generations of Baileys didn't appreciate that Hervey Bailey had been overlooked. Frank married Hilda Wharton, who lived on what is now known as Ruddell Hill (Joe Camp's place) with her mother and two sisters before they moved across Cajon Creek to the Obst place that became known as Freedom Acres when Anna Mills owned it. Hervey's son was Raymond Gould.
Hilda Wharton Schultz became our trusted caretaker who managed our livestock when we had to be away from home.
Most of the photos I've been posting came from Ray Bailey, the grandson of Londa Bailey, whose husband was the Keenbrook station master between 1911 and 1918. Londa's sister, Stella Ehwegen, was married to the Cajon station master, who previously served at the Summit Valley station. The two couples visited each other frequently, and both women were avid photographers. Ray Bailey inherited their photographs and graciously shared copies with me when he lived in Muscoy. Ray wanted the photos to have more public exposure, so here it is. More are available in the Cajon Pass book from Arcadia Publishing—from ArcadiaPublishing.com or most large bookstores.
Ben and Kathleen Verbryck also owned land in the Keenbrook area, and they donated land to the USFS to construct the first fire lookout platform in the Pass and the SB National Forest. Steam locomotives often started fires.
Gilbert Stuveling was another prominent landowner north of Keenbrook in the Clear Springs District when the land was assessed at $10 an acre. J.M. Herndon owned over 900 acres in the area.
Land boundaries in the pass have been fairly fluid through the years. Devore used to extend to Glen Helen and even beyond. Keenbrook used to include land on the east side of the creek like Mathews place and Freedom Acres.