Gold: Gold Mines
Ghost Towns & Mining Camps
Ballarat
From 1897 to 1917 Ballarat served as a supply and recreation center for miners in the Panamint Mountains and Death Valley. Ballarat springs, cemetery and remaining ruins of ...
Bickel Camp
Walt Bickel, a heavy equipment operator, came to the El Paso Mountains as ...
Bodie
Bodie State Historic Park is a genuine California gold-mining ghost town. Visitors can walk down the deserted streets of a town that once had a population of nearly 10,000 people. The town is named for ...
Calico Ghost Town
Late in the 1800's Calico was busy with prospectors searching for its mineral riches. Silver was discovered here and the Calico Mining District became one of the richest in the state. By 1881, Calico was ...
Caliente
Railroad construction camp and shipping center for Walker Basin.
Cartago
Landing and loading point for bullion from Cerro Gordo mines.
Cerro Gordo
At its peak over 1,000 people lived here working in mines as the ...
Chloride Cliff
In 1871, August Franklin killed a snake, looked down and found some rich looking float. ...
Cima
Deserted town in the Mojave National Preserve
Cudahy
The Old Dutch Cleanser mine and camp in the El Paso Mountains
Darwin
Dolomite
Mining ghost town at north end of Owens Lake.
Dublin Gulch
The caves in the soft hills of this wash were used as housing for ...
Garlock
California historical site in the El Paso Mountains originally known as Cow Wells
Goldstone
These days not even a shack remains standing, but gold was reportedly discovered at Goldstone as early as the 1880s. ...
Goler Gulch
John Goler was one of the Lost '49ers who had seen gold in one of the canyons on his way ...
Goodsprings, Nevada
Harrisburg
Currently known as Aguereberry Camp - Home of Pete Aguereberry.
Ibex
In 1881 Frank Denning and Stanley Miller discovered copper and silver deposits here and ...
Johannesburg
Small mining community off of highway 395 near Randsburg
Keeler
Port and bullion production town for Cerro Gordo mines.
Kelso
Little town just about in the dead center of the desert built to serve the railroad.
Leadfield
Leadfield's legacy is the road through Titus Canyon. A narrow, twisting canyon that ...
Llano del Rio
Community built, adequate water wasn't steady in supply.
New Dale Ghost Town
About 1910 New Dale was built several miles south of Old Dale. Of course ...
Nipton
Rail town and supply depot in the East Mojave
Oatman Arizona
Oatman is a former mining town in the Black Mountains of Mohave ...
Old Dale Ghost Town
Over the years there were several towns named "Dale" in the district east of Twentynine Palms
Providence
Boomtown of Providence near Mitchell Caverns in the Mojave Preserve
Ragtown
Ragtown, a ragged experience south of Ludlow.

Randsburg
Yellow Aster Mine and Rand Mining District
Red Mountain
Near Randsburg & Johannesburg
Rhyolite
Large Nevada ghost town west of Beatty near Death Valley
Searchlight
Mining Camp and Colorado River port
Shoshone
Southeast of Death Valley
Skidoo
In January 1906, clouds rolled in over the top of the Panamints. The blinding fog kept ...
Swansea
Owens Valley - North Mojave
Baldwin
Old buildings at Lake Baldwin near Big Bear (deprecated)
Route 66 Ghost Towns
---

Death Valley Ghost Towns
East Mojave Ghost Towns
---



also see:

Gold Mines & Mills

Gold
About Ghost Towns
Desert ghost towns are ghost towns simply for one reason; money. If the money isn't there, there is no reason for people to stay. In the areas where resources such as water are available, contemporary communities have developed. In the Mojave, these population centers evolved from springs along trails and later roads, into transportation hubs, waystations and centers, sometimes obscurring or building over historical consequence.

Old mining camps that have lost most of their population at some stage of their history, are sometimes included in the category, although they are active towns and cities today to various degrees. Shoshone and Randsburg are a good examples of this.

Some ghost towns such as Calico and Bodie are tourist attractions preserving architecture (more so Bodie). These towns exist in a protected state, with Calico, a nearly pure tourist attraction, makes money.

An attempt to declare an "Official Ghost Town" in California collapsed when the supporters of the town of Calico, in Southern California, and those of Bodie, in Northern California, could not come to an agreement as to which of their favorites was more deserving.

As a compromise, Calico is the official silver ghost town, while Bodie takes the gold ghost town designation.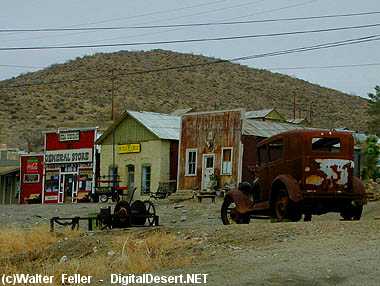 Randsburg, a living ghost town