Old West: Old Buildings

Old & Abandoned Buildings, Shacks and Cabins
Casa del Desierto - Barstow Ca.
Barstow Harvey House - Now renovated and occupied.

Kelso Station - Mojave Preserve
Train depot marking the center of the Mojave -- These photos were taken pre-renovation. Currently the Kelso Station is being used as the headquarters and visitor center for the Mojave Preserve.

Scotty's Castle - Death Valley
Walter Scott, eccentric but a lot of fun

Burro Schmidt Cabin - El Paso Mountains
Ransacked by thieves and vandals, and now, just a memory.

Old Buildings - Victor Valley / Lucerne Valley
Abandoned buildings, shacks and cabins in Cajon Pass, Victor Valley and Lucerne Valley

Vincent's Cabin - Angeles National Forest
Secluded remains of 1870's cabin -- This cabin has since been renovated, but may have not survived anyway. Current condition is unknown.

Holcomb Valley Cabin - San Bernardino National Forest
One room cabin in Holcomb Valley near Big Bear.

Dead Man's Point - Victor Valley / Lucerne Valley
Mock ghost town between the two valleys. Torn down and longer in existence.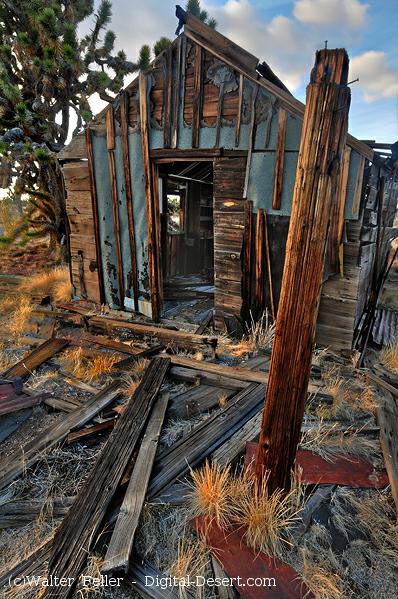 This cabin in Cima was more scenic than functional, and since has blown over and collapsed.