---------
Please Donate!
---------


Gold: Gold Mines
Desert Mining History
Gold and Silver Ore Milling & Processing
Gold
Arrastra
An Arrastra was a crude powered crusher which goes back to the mining ...
Stamp Mill
A stamp mill was a mechanical crusher, noisy, heavy and somewhat awkward ...


Chilean Mill
Silver
Smelter
Recovery of silver from ore was a different process from that of gold

Charcoal Kilns

Finding the metal was only part of the process. After the discovery was made the next step was to bring the ore out of the ground. In the dry Mojave, hard rock miners dug and blasted, sinking shafts and tunnelings into the mountainside. Next, the ore would have to be crushed into a workable size before the metal could be extracted.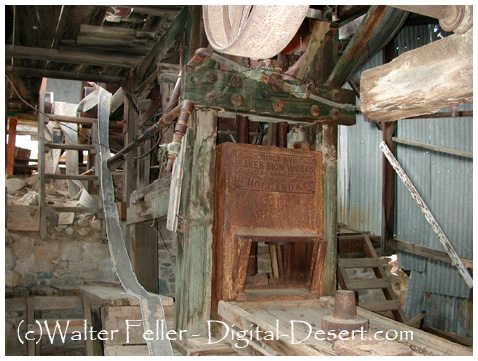 Mining History
Ghost Towns