Ore Milling & Processing
Chilean Mill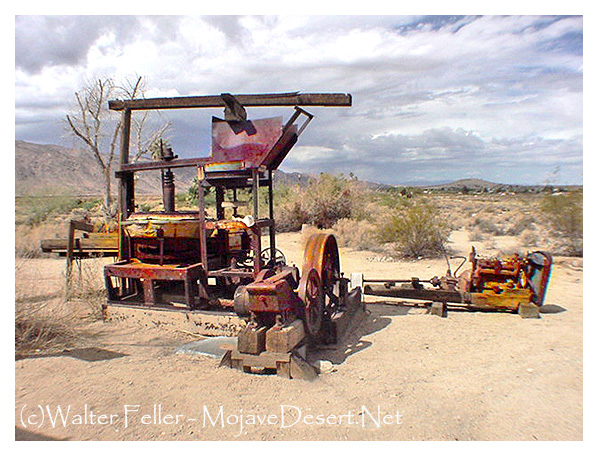 A description of the Chilean mill gold recovery process written in 1857

The most approved mode of crushing the rock, and of separating the gold, is either by stampers, or the improved Chilian mill. Except in the mode of crushing, the modus operandi is nearly the same in both. The first is by heavy stampers, weighing from two to six hundred pounds, which strike upon a heavy bed-plate of iron, enclosed in a tight box, having an iron plate pierced with holes, through which the pulverized rock escapes when fine enough, and is then passed over by a current of water. The Chilian mill is a series of heavy, upright, cast-iron wheels, which run in a circular groove, or trough of cast-iron, and this groove has sieves, somewhat similar to the stamping box, for the escape of rock, when sufficiently pulverized. By this method the rock is crushed, and ground by the weight of the wheels, and it is, in my opinion, the best, because it crushes the rock finer than the stampers, will wear much longer and needs fewer repairs. The stampes will wear out, and require to be duplicated in a month, while the wheels will wear a year. The rock then passes from the crushers, by long troughs, into an amalgamator, which is a box with two or three 380 partitions, the whole being five or six feet long, by sixteen or twenty inches wide. In the first partition is a bed of quick-silver, on which the crushed rock falls, being carried by a current of water flowing from the crushers into the amalgamator, through the troughs. Here the gold unites, or amalgamates with the mercury, while the rock passes onward by a proper motion being given to the amalgamator. When the rock has been thus run through, the quick-silver is strained through a thick buckskin, in which is left the gold and quick-silver in a mass, now called amalgam, which, after being carefully washed and cleaned, is put into a retort, when the quick-silver escapes from the gold, in the form of vapour, and is condensed, and falls into another vessel, ready to be used again, while the gold remains pure in the retort.


from; Life on the plains and among the diggings; being scenes and adventures of an overland journey to California
BY A. DELANO - NEW YORK: MILLER, ORTON & CO. -- 1857.



The Chilean mill was developed so the extraction of gold from ore was a one man operation. This particular mill is powered by a gas engine.

The first step in the process is the jaw crusher.
Jaw crusher
Hopper
Mill tub
Concentration table
Table and shaker