Old West
Desert Cemeteries
Ballarat Cemetery
- Panamint Valley - Death Valley - North Mojave
Final resting place of 'Seldom Seen' Slim.


Bagdad Cemetery
- Route 66 - East Mojave
All that remains of a once a busy little community.


Boron Cemetery
- Boron - West Mojave
Small graveyard near railroad.


Calico Cemetery
- Barstow - West Mojave
Sparse remains near tourist attraction

Cerro Gordo Cemetery
- Cerro Gordo Ghost Town - North Mojave
Chloride Cemetery
- Chloride, AZ - East Mojave
Daggett Pioneer Cemetery
- Barstow - West Mojave
Doble Cemetery
- San Bernardino National Forest


Johannesburg Cemetery
- Randsburg - North Mojave
Graveyard just over the saddle from Randsburg.


Keeler Cemetery
- Owens Valley - North Mojave
Not far from town, at the base of a mountain.


Ludlow Cemetery
- Ludlow - East Mojave
Numerous markers scattered and worn invoke memories of times gone by


Oro Grande Cemetery
- Victor Valley - West Mojave
In the wide opening of the Mojave River in the small town of Oro Grande, this cemetery sits nearly forgotten.


Searchlight Cemetery
- Searchlight, NV - East Mojave


Shoshone Cemetery
- Shoshone - North Mojave
Dusty graves line hillside in Dublin Gulch near Shoshone.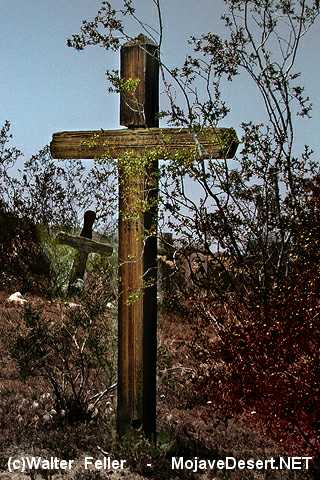 What histories of tragic struggle with fortune and of defeat there are written in California! How many young men, for whom still fond hearts of sisters or mothers beat lovingly in vain, have fought the battle of life here unsuccesfully, and have died, as men know how to die, in solitude without a murmur or a groan.

-- Charles Loring Brace
The New West, 1869