Mojave Desert Map:
Antelope Valley
The valley was named for the graceful animals that are said to have roamed there until being eliminated by hunters and bad weather in the 1880s. The principal cities in the Antelope Valley are Palmdale and Lancaster.
-

The Antelope Valley is a 3,000-square-mile high desert closed basin that straddles northern Los Angeles County and southern Kern County. One of nine California valleys with the same name, this one lies in the western Mojave high desert and includes the communities of Lancaster, Palmdale, Rosamond and Mojave. Populated by different cultures for an estimated 11,000 years, the Antelope Valley was a trade route for Native Americans traveling from Arizona and New Mexico to California's coast. Though the first wave of non-native exploration took place in the early 1770s, a later exploratory period starting in the 1840s led to the valley's first permanent settlement during the following decade, fueled by California's Gold Rush and new status as American territory. The 1854 establishment of the Fort Tejon military post near Castaic Lake and Grapevine Canyon created a gateway for valley traffic.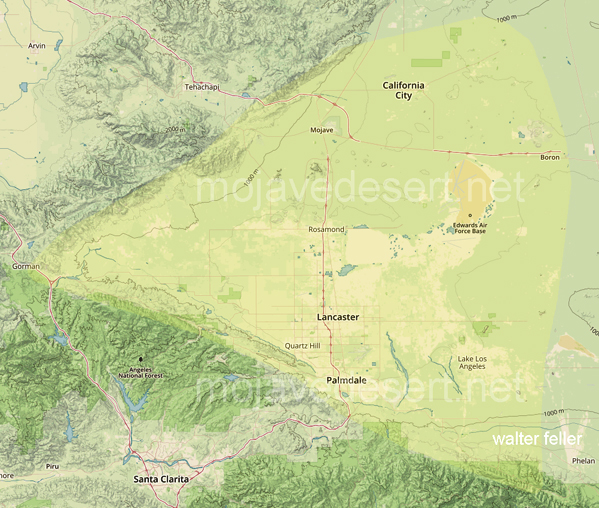 Several developments were integral to the valley's growth starting in the mid-1800s, including gold mining in the Kerns and Owens rivers; cattle ranching; the start of a Butterfield stagecoach route in 1858; construction of the Los Angeles-to-San Francisco telegraph line in 1860; completion of the Southern Pacific Railroad line in 1876; and ample rainfall during the 1880s and early 1890s, which attracted many farmers. The decade-long drought that began in 1894-the worst in southern California's recorded history-decimated the regional economy and forced many settlers to abandon their homesteads, but after the turn of the twentieth century irrigation methods and electricity brought back local farming. The 1913 completion of the aqueduct spanning 233 miles between the Owens Valley and Los Angeles also revived the valley's economy. Today the Antelope Valley retains elements of its agricultural past but its economic base is now supported by aerospace and defense industries.


from; Antelope Valley Library


The Last Antelope
Geography
Shaped like an arrowhead pointing to the left, the Antelope Valley comprises the western tip of the Mojave Desert, opening ...
Flora and Fauna
The Antelope Valley is home to a wide range of plants and animals, all of which are adapted to the area's climate. It is home to hundreds of plants like ...
Human history
The first peoples of the Antelope Valley include the Kawaiisu, Kitanemuk, Serrano, and Tataviam. The valley was first entered by ...

Points of Interest

Antelope Valley California Poppy Reserve
Arthur B. Ripley Desert Woodland State Park
Antelope Valley Indian Museum State Historic Park
Saddleback Butte State Park
Devil's Punchbowl County Park
Little Rock Reservoir
Vasquez Rocks
Highway 14
Highway 138
Tropico Gold Mine
Littlerock
Littlerock Reservoir
Elizabeth Lake
Socialist Colony Ruins
'Kill Bill' church
Lancaster
Palmdale
Llano
Valyermo
Pearblossom
Mojave

Kitanemuk
Serrano
Tataviam
Vanyume

Territorial Map


High Desert Plains & Hills