Indian Wells Valley
Ridgecrest, Ca
El Paso Mountains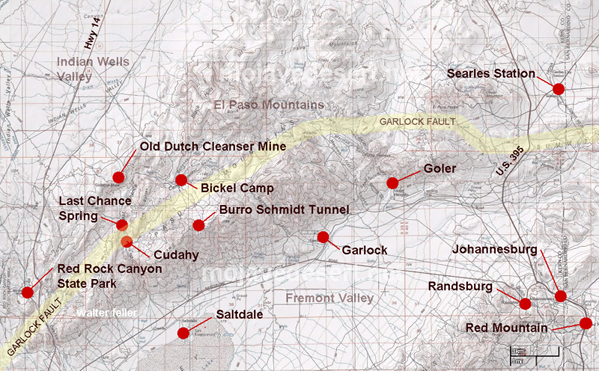 Area Description:

The roads and trails of the El Paso Mountains will lead you into a region known for its dazzling multi-hued canyons, historic mining areas and primitive desert landscapes. The El Pasos offer great opportunities for exploring with a sport utility vehicle, dual sport motorcycle, mountain bike, on horseback or on foot.

NOTICE - Motorized use is permitted only on routes signed "OPEN." Any route that does not have an "OPEN" sign is not legal for motorized use. Motorized use of any closed route will result in a fine or criminal prosecution.

Access: To start with you will need a copy of the BLM Desert Access Guides for Cuddeback Lake and Ridgecrest. A high clearance 4-wheel drive vehicle equipped with desert survival gear is essential.

From the southwest, use SR 14 to the Red Rock-Inyokern Road approximately 3 miles north of the Red Rock State Park. Follow this graded dirt road north to Hart Road, and continue into the heart of the El Pasos by traveling east. This is a great way to get to Last Chance Canyon and experience some of the signed depression era mining sites.

From the south try the Mesquite Canyon Road (EP 100). To reach this road, turn right from SR 14 onto the Red Rock-Randsburg Road/Garlock Road which is located approximately 10-11 miles east, turn left on to EP 100 or Mesquite Canyon Road.

From the north travel west from the intersection of US 395 and "Old 395" approximately 3.5 miles to EP 18, a paved road leading to a large sand and gravel pit. At approximately 1.5 miles, this road turns into a rough dirt road and is popular with mountain bikers, jeepers and equestrians.

This area also includes the El Paso Wilderness Area. Please obey the signs and do not travel by mechanized or motorized vehicles into the wilderness.

Services: Food and fuel are available in Ridgecrest. The nearest medical facilities are located in Ridgecrest at the Ridgecrest Regional Hospital, Telephone 760-446-3551.

Additional Information: The BLM encourages all recreationists and travelers exploring public lands, not only within southern California but throughout the west to use a propylene glycol based antifreeze/coolant in their touring and recreation vehicles. Proven safer, it will have minimal impacts on both the wildlife and the environment should a leak occur. Please help protect the desert wildlife. . . and their fragile desert environment!

The El Paso Mountains are home to the desert tortoise, collecting tortoises is prohibited. Please avoid handling or disturbing these desert creatures.

There are many historic and prehistoric features and artifacts in the area, which are protected by law. Do not collect or otherwise damage these relics of our heritage. Source - BLM

Also see:
Burro Schmidt Tunnel

William "Burro" Schmidt spent 38 years digging through Copper Mountain in the El Paso range. ...

Burro Schmidt Cabin

His love for Aunt Jemima Pancakes is evidenced by the numerous boxes nailed to ...

Goler Gulch

John Goller was one of the Lost '49ers who had seen gold in one of the canyons on his way ...

Garlock

At first Garlock was known as El Paso City or Cow Wells interchangeably. The little town provided ...

Red Rock Canyon

Red Rock Canyon State Park features scenic desert cliffs, buttes and spectacular ...

Last Chance Canyon

Manly and Rogers on their heroic walk to save a party of lost 49er's made their way through this rugged ...

Cudahy Ghost Camp

The 700 foot high pumicite outcropping in El Paso Mountains was between ...

Holly Mine

Cleanser mine located in the El Paso range.

Bickel Camp

Walt Bickel's gold camp ...

El Paso Mountains Wilderness

Numerous reddish-colored buttes and dark, uplifted volcanic mesas dissected by narrow canyons distinguish this ...

El Paso Mountains Mining District

The first recorded mining activity in the El Paso Mountains predates the Sageland discoveries by a few years, but the majority of ...

Highways

Ecosubsections

Geomorphology

Mojave Desert Province

The Mojave is a broad interior region of isolated mountain ranges separated by expanses of desert plains. ...

Basin and Range Province

The Basin and Range is the westernmost part of the Great Basin. The province is characterized by interior drainage with lakes and playas, and ...

Garlock Fault

The Garlock Fault is the defining fault between the Mojave Desert and ...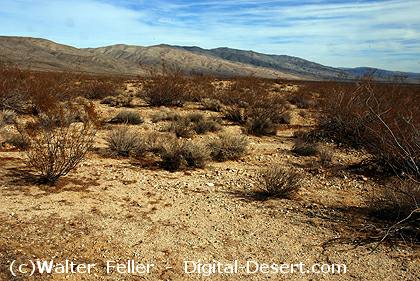 El Paso Mountain Range



Goller Gulch mine tunnel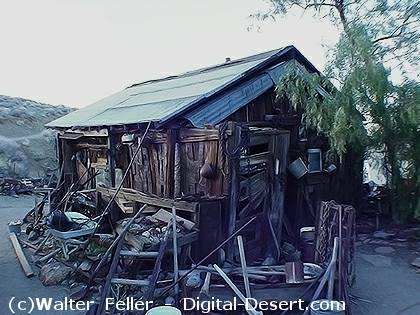 Burro Schmidt Cabin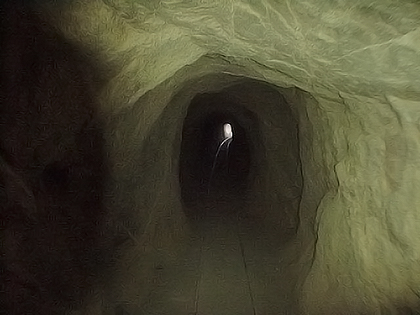 Burro Schmidt Tunnel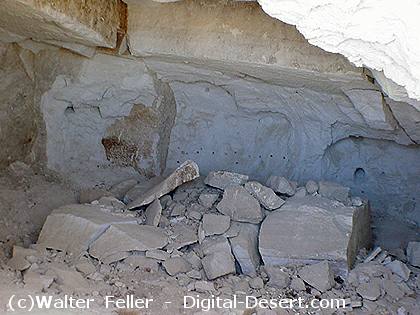 Holly Mine