Wilderness
El Paso Mountains Wilderness #43
SIZE: 23,780 acres

LOCATION: Kern County; 6 miles southwest of Ridgecrest, California

NATURAL RESOURCES: Numerous reddish-colored buttes and dark, uplifted volcanic mesas dissected by narrow canyons distinguish this wilderness. Badlands topography surrounds Black Mountain, the central feature of this wilderness. The most spectacular attribute of this area is the abundance of cultural sites. The southern portion of the wilderness is included in the Last Chance Archaeological District and is listed on the National Register of Historic Places. Wildlife includes raptors, Mojave ground squirrel and the desert tortoise. Vegetation primarily consists of creosote bush scrub community with Joshua trees on the western side of the mountain.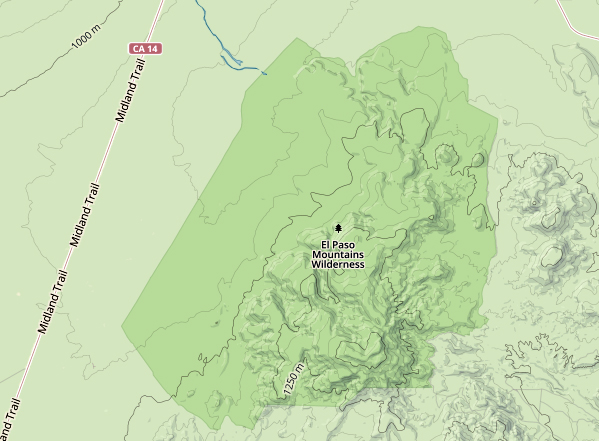 ACCESS: Access this wilderness via State Highway 14 north of Red Rock Canyon State Park and along Red Rock-Inyokern Road along the west; Hart Road (EP155 - four wheel drive only) along the south; and from the east via U.S. Highway 395 south of Inyokern, along EP18 to Sheep Springs Road (EP26 - four wheel drive recommended). Visitors should check road conditions before driving to the area.



Searles Valley - Owlshead Mountains Ecosubsection
Basin and Range Geomorphic Province