Parks & Public Lands
Red Rock Canyon State Park
Red Rock Canyon State Park features scenic desert cliffs, buttes and spectacular rock formations. The park is located where the southernmost tip of the Sierra Nevada converge with the El Paso Range. Each tributary canyon is unique, with dramatic shapes and vivid colors.

click the photo to continue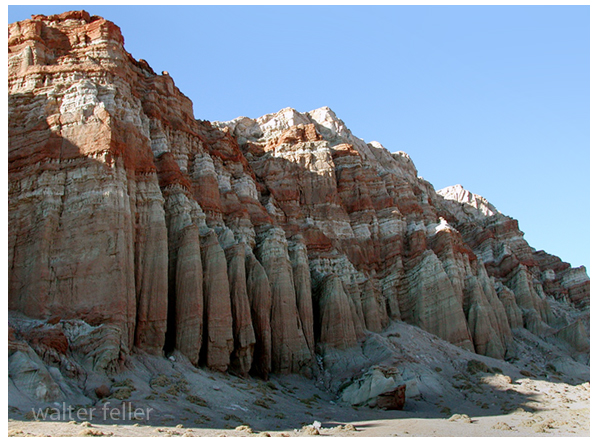 Historically, the area was once home to the Kawaiisu Indians, who left petroglyphs in the El Paso mountains and other evidence of their inhabitation. The spectacular gash situated at the western edge of the El Paso mountain range was on the Native American trade route for thousands of years. During the early 1870s, the colorful rock formations in the park served as landmarks for 20-mule team freight wagons that stopped for water. About 1850, it was used by the footsore survivors of the famous Death Valley trek including members of the Arcane and Bennett families along with some of the Illinois Jayhawkers. The park now protects significant paleontology sites and the remains of 1890s-era mining operations, and has been the site for a number of movies.

After wet winters, the park's floral displays are stunning. During a dry winter the wildflowers are more sparse, but the beauty of the desert, combined with the geologic features, make this park a favorite destination. Wildlife you may encounter include roadrunners, hawks, lizards, mice and squirrels.

The colorful and scenic cliffs that make up the Red Rock Canyon have fascinated visitors and travelers for more than a century. Located in the southern El Paso Mountains, these colorful cliffs with their stark beauty and unique features have attracted hikers, geologists, paleontologists, and campers.
Plants and Animals

Diverse plant and animal life is represented in the park. Joshua trees, typical of the ...

Natural Preserves

Natural Preserves have been set aside within the park to protect ...

Wildflowers

In the spring, wildflowers may be abundant if there has been sufficient rainfall and cold ...

Wildlife

Wildlife is abundant although not always visible. Birds both residential and migratory, are ...

Native Americans

Indigenous people lived in the Red Rock Canyon. The Kawaiisu, an offshoot of the Ute-Chemehuevi, were a ...

Geology

he geologic story of Red Rock Canyon is told by its unique rock formations. Layers of ...

Paleontology

Miocene fossils have been found in the cliffs of Red Rock Canyon. Scientists continue to ...


source - California State Parks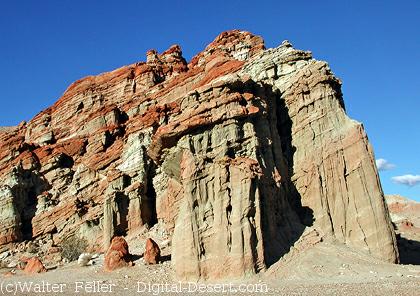 Red Rock Canyon State Park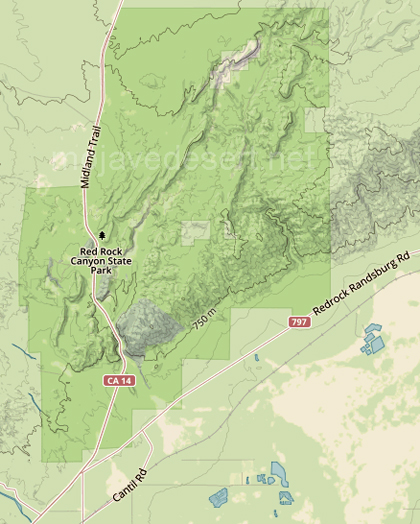 Historic Photos
High Desert Plains & Hills
... the western Mojave Desert, which is mostly alluvial plain and pediment, with relatively small areas of hills and low mountains. It includes Indian Wells Valley north of the Garlock Fault; otherwise it is between the Garlock Fault on the north and ...