Highways, Roads & Trails - Mojave Desert History:
Trails of the Pioneers
The trails, in all likelihood, started as game trails to and from springs. A hungry pack of wolves, or a singular scrawny coyote may have put them together, defining a network between springs. Later, Native Americans may have further developed these foot-trail systems for migration and trade. This type of traffic may have went on for hundreds and hundreds, if not thousands of years.

Explorers came and used these trails, and soon they were widened by use to accommodate mule and horse traffic. Alternate routes were developed increasing the probablility of water being available at one spring while another may have been dry. Possibly, carretas passed by, widening the way a little more for the wagons driven by pioneers. Then these worn roads were recorded and outposts to protect travelers were built along their ways.

Alignments were adjusted and the roads widened again for automobiles. And after not much time, decades rather than centuries, the roads were widened and paved, then widened, and paved again. These myriads of trails, braided and complex, used and much traveled, became redirected and developed into our transportation corridors of today. These highways, from the time before people, became our historic roads of today.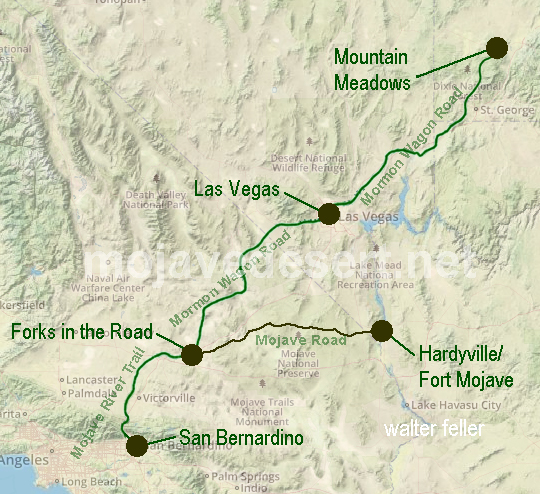 The Interstate 15 Corridor:
Old Spanish Trail

1829-30 to 1848 -- New Mexican caravans to Los Angeles used the trail for trading horses and thieving. Explorer John C. Fremont met six Mohaves here in 1844 at elevation 2250' and named the river "MOHAHVE".

Salt Lake Road

1848 -- Following close to the Spanish Trail, Henry Boyle and Captain Daniel C. Davis of the Mormon Battalion pioneered the first wagon road to Utah in 1848. Jefferson Hunt and the 49ers took the road back to the California Gold Rush. Freighters, mail carriers, Mormons, and miners passed here.
The Interstate 40 Corridor:
San Bernardino to Panamint Freight Road
Aaron Lane supervised building a road to Panamint Valley which began near the Cottonwoods.
Sierra Highway
or El Camino Sierra



Misc.:

Brown's Toll Road
Van Dusen Road
Stoddard Wells Road
Sidewinder Road

The Cottonwoods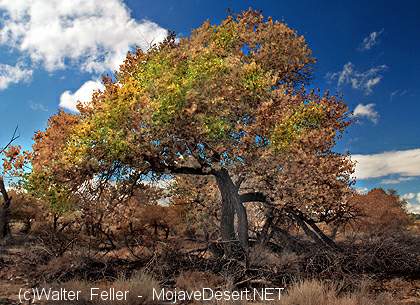 Between what is now known as Barstow and Helendale cottonwood trees grew along the Mojave River. Water was available in steady supply, and in such a sparse environment, the abundant shade made this a favorite camping spot for Indians, and later pioneers weary from their journey across the desert. This place became known as, "The Cottonwoods".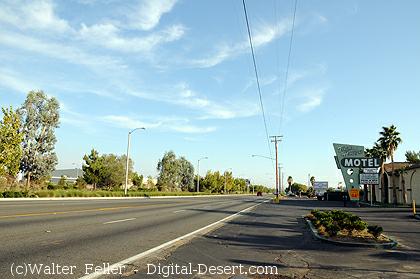 Sierra Highway, Lancaster, CA.

The Sierra Highway ultimately evolved into the 14 Freeway, connecting Los Angeles to the Eastern Sierra Nevada,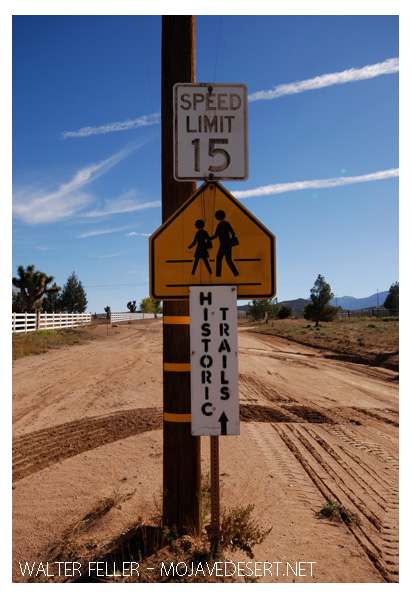 Occasionally, historic trails are easy to find!