Historic Roads
El Camino Sierra/Sierra Highway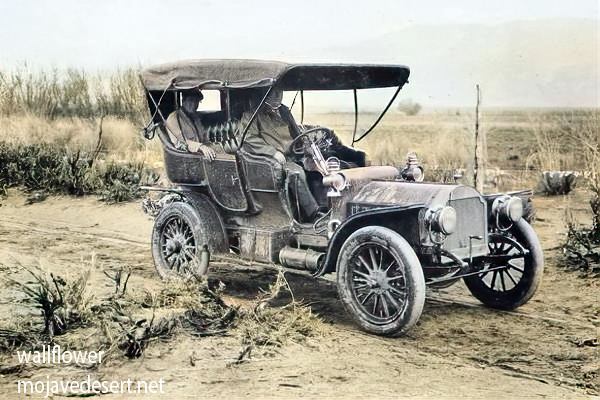 El Camino Sierra 1907

The first recorded journey along what would become El Camino Sierra was by Jedediah Smith in 1826. The trail was in common use by prospectors passing through the area because of the California Gold Rush and Comstock Lode. While still mostly a dirt road, several people began promoting El Camino Sierra as a scenic route. In 1910, the Los Angeles Times announced that Governor Gillet had announced funding to construct a new road to connect El Camino Real with Yosemite National Park. When finished, a new "wonderful circuit" route would be complete and El Camino Sierra would become "one of the most beautiful scenic routes in the world."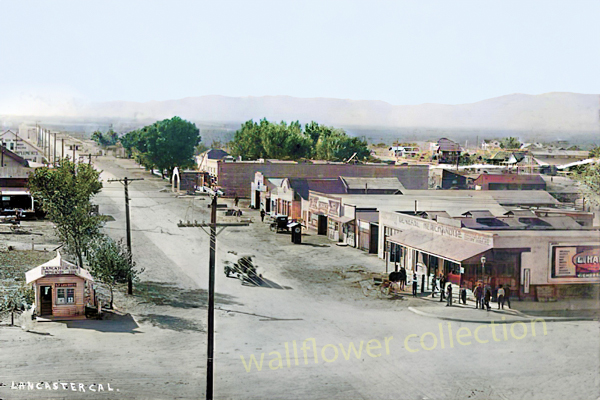 El Camino Sierra, Lancaster, Ca. 1918

In 1912, the Southern Pacific Railroad published an article called "Two Mules and a Motorist" in which the author's trip down El Camino Sierra was detailed, promoting the trail as a scenic side trip, via pack mules, from its rail lines. In 1915, the California Teachers Association distributed a promotional book to the annual convention of the National Education Association. This book contained an article that sung the praises of this "soon-to-be-world-famous highway" called El Camino Sierra. While noting that it was still mostly an unimproved trail, the article assured the readers that county and state officials were working frantically to upgrade the route and, with the aid of convict labor, this would soon be a "boulevard the entire distance from Los Angeles to Lake Tahoe." The article concluded by stating El Camino Sierra was "a highway with a hundred by-ways, each by-way with a hundred wonders".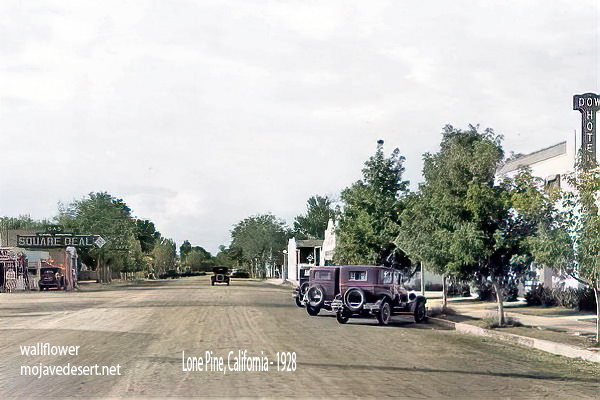 Lone Pine, Ca. 1928 (colorized)

By 1918, El Camino Sierra had been included in the Blue Book, an early road atlas of the United States. The Los Angeles Times declared El Camino Sierra complete on February 19, 1931, announcing that the portion from Mojave to Owens Valley was now paved, and would be dedicated the following Sunday.
Sierra Highway
During the 1930s, two U.S. highways, both formed in 1926, were extended into California using El Camino Sierra. The southern terminus of U.S. 395 was extended from Spokane, Washington to San Diego, using El Camino Sierra from near what is now Topaz Lake to Inyokern, by 1935. By 1937, U.S. Route 6 was extended from Colorado, mostly along the Midland Trail, to Long Beach using El Camino Sierra south of Bishop. As part of the 1964 state highway renumbering US 6 was truncated at Bishop, and the route from the separation with U.S. 395 to I-5 was renumbered SR 14.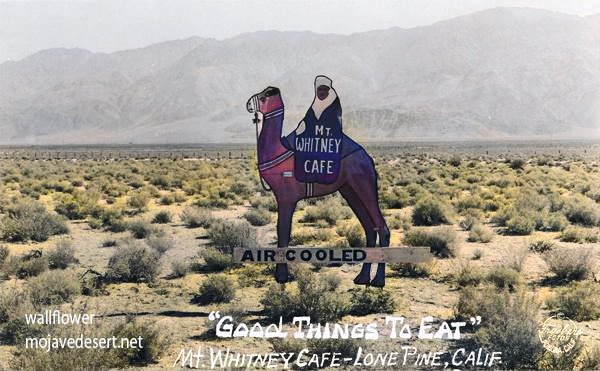 Whitney Cafe sign (colorized)

Though during the 1970s most of Sierra Highway was bypassed by freeways and expressways, the old two-lane road remained a famous roadway. In 1971, Steven Spielberg made his first feature-length film, Duel, along Sierra Highway, near Acton. The film is about an unseen truck driver who stalks and attempts to kill an innocent motorist trapped in the truck's game. It prominently shows the desert portions of Sierra Highway. With Duel's status, one of the trucks used in the film is still on the road and in the process of being restored. The current owner has driven the truck along Sierra Highway for nostalgia, enjoying the terrified looks he receives from passing motorists who recognize it. Other movies have since been filmed in the vicinity, including scenes in The Terminator.

https://en.wikipedia.org/wiki/Sierra_Highway