Randsburg, Ca.
Randsburg as a Tent City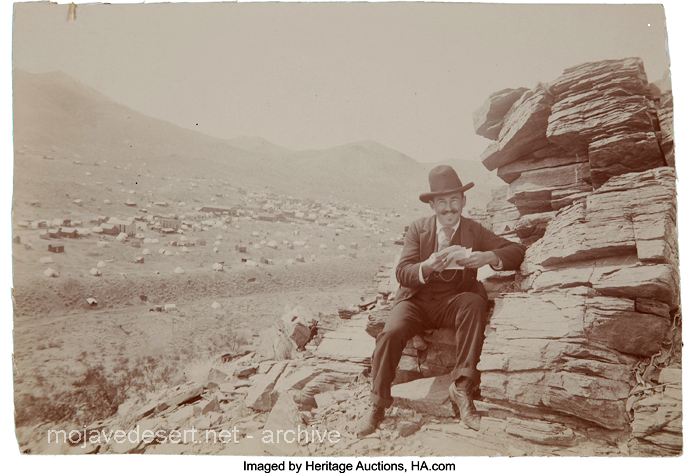 C. W. Tucker with Randsburg as a "Tent City" in the Background 1897.

C. W. Tucker shortly after his arrival in Rand Camp is reading a letter, which was probably from his girlfriend. In the background is Randsburg in the Spring of 1897. It was reported in the December 20, 1897 edition of The Los Angeles Times that:
"Randsburg Dec. 18. (Regular correspondence) The business activities of this place still continue in ever-increasing volume. New houses are going up in all directions, but especially on Butte Avenue, the main road running through the Rand to Fiddler's Gulch. This is the route to Kramer on the Santa Fe, and also that upon which the stages over the new route to Mojave arrive and depart. The mail coach comes in over the old road serving the offices at Koehn Springs and Garlock Stages on the way. On Butte Avenue during the past week more than fifty new buildings erected, some of them quite pretentious in size, but for the most part small and either composed wholly of lumber or the foundations, floor and sides lumber, and a tent stretched over for a roof. The buildings are, of course, of the plainest and cheapest kind, without any attempt at architectural plans or beauty. They will serve their purpose equally as well as more costly ones, until their owners either get rich or fail. There are many more people here than a week ago and lots are a good sale. The price of lots anywhere along Butte Avenue varies a little according to location. Just now the most activity out towards Fiddler's Gulch and more building going on there. Lots sell from $50 up, and the title is only squatter's. If not occupied or built on they are likely to be occupied by someone else some morning before the reputed owner is aware. So far there has been little trouble, but just yesterday a lot owned and claimed by a young man here, but who had no buildings up, was taken possession of by other parties and a house is going up today."

Previous - Next