Randsburg, Ca.
Randsburg - June 1898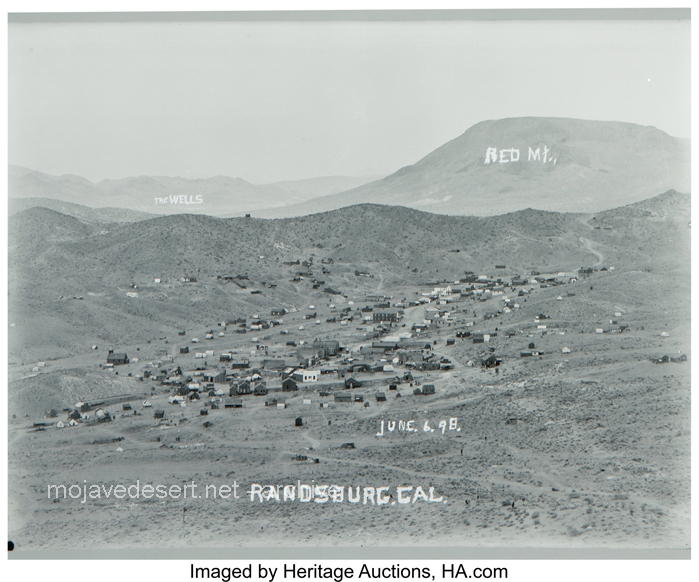 Randsburg Looking Northeast Rebuilding After the Fire June 1898

A really great photo from the historians view, this photo shows all the mines on Gold Hill, starting from the left the Monkey Wrench, the Little Butte, the Kinyon, the Wedge, the J.I.C., the Excelsior and the Big Butte (Butte Lode). Below on Butte Avenue may be seen construction of buildings to replace some of those lost in the May 1898 fire. A few buildings are shown on Rand Street that have been moved in or rebuilt. On the east side of Broadway are shown the buildings that survived the May fire only to be lost in the heretofore unknown fire of November 1898. This fire has not been mentioned in the history books written to date. A report on the November fire has been found in the November 8, 1898 edition of the San Francisco Call:
"RANDSBURG BARELY ESCAPES DESTRUCTION. Block of Buildings Razed by a Conflagration in the Desert Mining Town. RANDSBURG, Nov. 7. - Randsburg had a narrow escape from another disastrous conflagration to-night. At 8:20 fire started in Callahan's old saloon at the corner of Rand Avenue and Broadway, and soon was raging east on Broadway in the direction of the main part of town. A gale was blowing, and the flames soon communicated to the adjacent buildings, rapidly consuming the Klondike restaurant and a barber shop, the Mojave and Randsburg Stage Company's office, Fry's butcher shop, the new Steam Bakery, the Broadway lodging house and the New York lodging house, where the fire was got under control by the volunteer fire company. The cause of the fire is unknown. The loss will be in the neighborhood of $6,000, and it is said there is no insurance. This was the third fire this town has suffered within the past year. Tonight's blaze consumed the only portion of the town that was left by the other fires. The efficiency of the new water system and the organized Fire Department was severely tested tonight, and that the rest of the town was saved is due to the valiant efforts of its members."

Previous - Next