Randsburg, Ca.
Earliest Known Photograph of the Mining Camp At Randsburg, California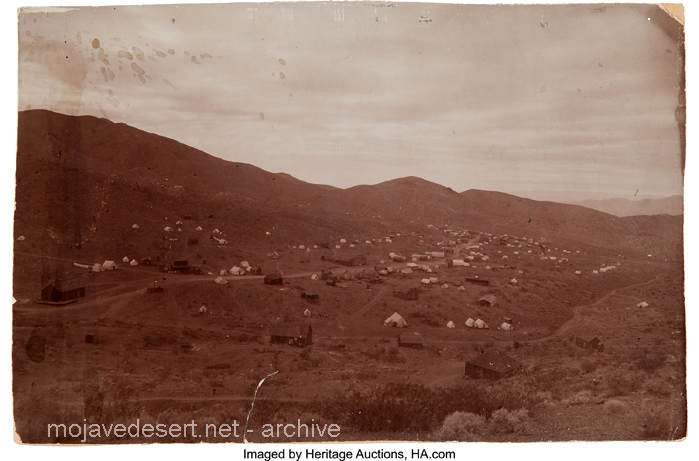 Still Predominately a Tent City. Randsburg was described in a letter to the San Francisco Call newspaper in January of 1897 as follows:
"NEWS FROM RANDSBURG.

The following letter from Randsburg gives the latest news of the mining camp in a concise and interesting style: Randsburg, Dec. 29, 1896. This is a wild camp, composed of 242 tents, mostly small ones, and 112 "shacks" and "shanties" ranging from 6x6 feet to 20x60 feet. The largest are the dance houses, groceries, hotels and lodging-houses. It is hard to get a bed in a comfortable place at any price. Every kind of trade is amply represented on a small scale except the gambling houses and saloons, which are represented on a scale out of proportion to the number of inhabitants. More "shanties" are erected every day, and it takes about two days' work of two men to build one of them without plastering, ceilings, and with few windows. As there are only about seventy-five men employed in the mines out of about 1500 people the money to support the camp comes mostly from outsiders coming and going. There are three stages from Mohave and two from Kramer every day, besides many teams hauling lumber, supplies and water. Very little development work has been done yet on claims and mines, but of the amount done there is an excellent showing of rich, high-grade ore. No miner or anyone else who must have immediate work to live should come here, as the camp is overstocked now. Every foot of the surrounding country is taken up by claims, some two and three deep. There is a prospect of lively times settling up these claims. There is a rival camp over the hill east of Randsburg named Johannesburg, an immense, high-sounding name for a very small camp of a few scattered tents, in fact living here is about like camping out on a vacant lot in San Francisco surrounded by old tin cans and without the comforts of nice pavements, etc."
Previous - Next