---------
Please Donate!
---------


Communities - Ghost Towns
Randsburg, CA.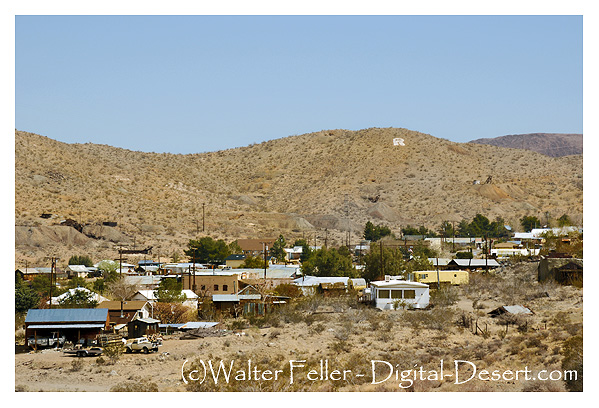 The Yellow Aster, or Rand, mine was discovered in April 1895 by John Singleton, Charlie Burcham and F. M. Mooers. The called their discovery Rand, after the South African mining district of which the profusion of minerals resembled.

The camp became Rand Camp then Randsburg. The boom was on and the little town quickly grew and developed to a population of about 2,500. The rush faded but silver and tungsten were found and the area lived on.

Randsburg population is currently about 200 at an elevation of 3523 feet.
History of Randsburg Mining District
Wandering prospectors from the El Paso District discovered that the Summit Range, located northeast of the El Paso Mountains, also contained ...
Atolia-Randsburg Tungsten Boom
Randsburg by the beginning of the twentieth century has settled into a calm period of average, modest mining production. No new gold discoveries ...
Map of Randsburg, CA
Randsburg Weather
Randsburg 360° Photos
Heritage of the Upper Mojave
"It is a land steeped in the romance and lore of a colorful past which witnessed a cavalcade of pathfinders, explorers, gold seekers, stagecoaches, and freighting wagons -- culminating with the entrance of railroads, ..."
Historic Randsburg Photos
Burton Frasher photos - 1934