Randsburg, Ca.
Dry Washing for Gold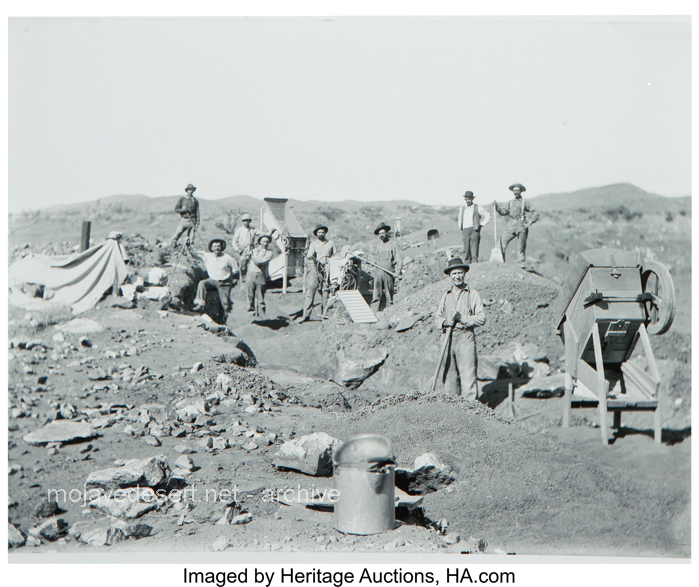 Dry Washing for Gold at St. Elmo, Randsburg.

An excerpt from an article in the December 16, 1896 edition of The Los Angeles Daily Times:
"Quartz mining here does not, wholly engage the attention of the miners, as is evidenced by the hundreds of acres being taken as placer diggings by the dry-washing process. Out at the famous St. Elmo and on top of that fabulously rich mine a Los Angeles company calling itself the Stein Mining and Milling Company, of which J. D. Stein is superintendent, has leased 100 acres from the St. Elmo, and have taken as much more. This company has on the ground in process of erection a costly dry-washer and an immense pulverizing cylinder, to be run with a powerful gasoline engine, the estimated capacity of which is for handling 300 tons of dirt per day. The company expects first to plow the ground then to bring it with scrapers to the pulverizer, where it is raised by an elevator and passed through the pulverizer, going direct from there to the dry washers, three in number, all connected to one shaft. The company expects to realize $1 per ton from the dirt. The machine will be operational today or tomorrow."
In addition were many independent operations by individuals and teams of men who with their standard dry washers soon made the area look like a bombing range with piles of dirt and rock all over the place. This area was worked again during the tungsten boom to recover the tungsten that the previous miners had thrown away as useless heavy rock that clogged up their dry washers.

THE END

Previous - Index