Death Valley National Park: Highways, Backroads & Trails:
Backcountry Roads
Route #1
Hole-in-the-Wall
This road traverses east up a gravel wash. After passing through the 400' deep ...

Route #2
Echo Canyon
The road tends to have deep gravel and is quite rocky 3 miles from the highway. ...

Route #3
Chloride City
One of the earliest sites of mining in Death Valley ...

Route #4
Titus Canyon
This popular road is ONE-WAY from east to west. ...

Route #5
Phinney Canyon
From the pass there are views of the Grapevine Mountains ...

Route #6
The Racetrack
A dry lakebed famous for its "moving rocks." ...

Route #7
Hunter Mountain and Hidden Valley
From Teakettle Junction the road becomes rougher. ...

Route #8
Saline Valley
One of the most remote locations in California, ...

Route #9
Cottonwood and Marble Canyons
The road drops into the wash and becomes rocky and rough. ...

Route #10
Tucki Mine Road
After following along the base of the mountains ...

Route #11
Trail Canyon
This road leads to a spring ...

Route #12
Hanaupah Canyon
It climbs the huge alluvial fan before ...

Route #13
Johnson Canyon
Beyond the end of the road a 2 mile hike leads up the canyon to ...

Route #14
Butte Valley via Warm Springs Canyon
This road follows Warm Springs Canyon past ...

Route #15
Greenwater Valley
This road follows the length of this ...

Route #16
West Side Road
Interactive Map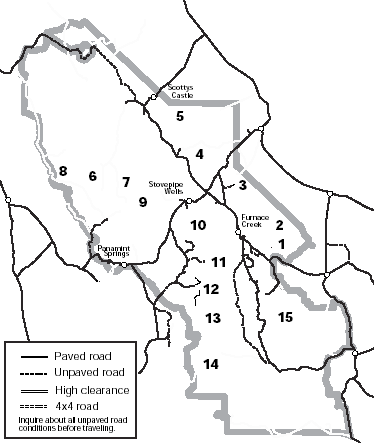 About Backcountry Roads
A vehicle with high-clearance will be necessary for all of the roads described, but four wheel-drive may also be required on some of the rougher roads. Inquire at the Furnace Creek Visitor Center or other ranger stations for additional information and current road conditions.


Please stay on established roads and respect wilderness closures.


Do not remove or disturb any cultural or natural features in the park.


Be sure to carry plenty of water; never rely on backcountry water sources.


Backcountry camping is restricted to certain areas, please check in at the visitor center before planning an overnight trip and fill out a free Backcountry Camping Permit.


Travel and camp using "Leave No Trace" principles.