Death Valley National Park: Backcountry Roads:

Titus Canyon
Route #4
Vehicle needed:
high-clearance

Distance:
27 miles

Start:
Nevada Highway 374 (Daylight Pass Road), 2 miles east of park boundary

Camping:
no

Description:
This popular road is ONE-WAY from east to west. The road re-enters the park and winds through the Grapevine Mountains, then drops down through one of Death Valley's most spectacular canyons. Along the way watch for the ghost town of Leadfield and petroglyphs at Klare Spring. Please report sightings of Bighorn Sheep to the visitor center. A free information handout describing the trip highlights can be picked up at the visitor center.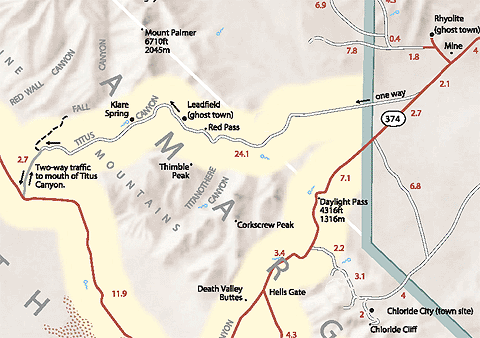 Titus Canyon
Titus Canyon Geology