Death Valley National Park: Backcountry Roads:

Butte Valley via Warm Springs Canyon
Route #14
Vehicle needed:
high-clearance first 10 miles to talc mines; 4x4 required beyond

Distance:
21 miles to Butte Valley

Start:
West Side Road, 2.9 miles from southern end

Camping:
yes, after first 2 miles

Description:
This road follows Warm Springs Canyon past several talc mines before leading into scenic Butte Valley, at an elevation of 4500'. A rough road leads out of the park over Mengle Pass and into Panamint Valley to the west via Goler Wash (4x4 required).
Butte Valley Points of Interest
Geology
Butte Valley Geology

The bedrock geology of the Precambrian rocks of the Warm Springs area gives way to Jurassic quartz monzonite ...

Warm Springs Talc Mines

The Warm Springs talc mines are the most recently active talc mines in the area and were a major ...
Ecology
Panamint Range

This subsection comprises the Panamint Mountains, which are between Panamint Valley and Death Valley. ...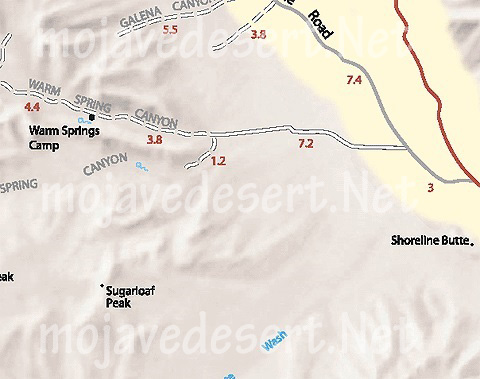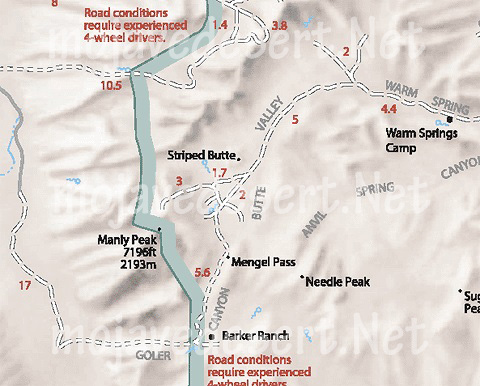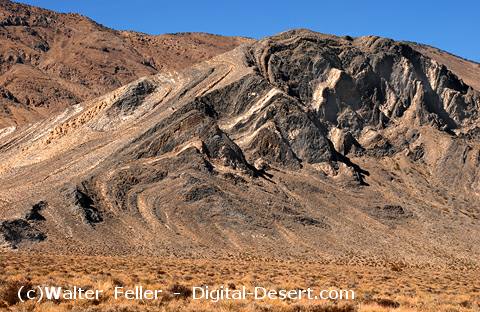 Striped Butte