Death Valley National Park: Backcountry Roads:

Echo Canyon
Route #2
Vehicle needed:
high-clearance first 3 miles, 4x4 required beyond

Distance:
10 miles to Inyo Mine

Start:
2 miles east of Furnace Creek Inn on Hwy 190

Camping:
Yes, after first 2 miles

Description:
The road tends to have deep gravel and is quite rocky 3 miles from the highway. The Needle's Eye, a natural arch, is located within the canyon narrows. A side road to the left climbs over a small saddle and eventually leads to Amargosa Valley, but is very rough, requiring a short wheelbase 4x4 and an experienced driver. The main road continues to the Inyo Mine with its old structures and remnants of mining equipment.
Furnace Creek Wash Geology
Furnace Creek
Furnace Creek was formerly the base of Death Valley operations for the ...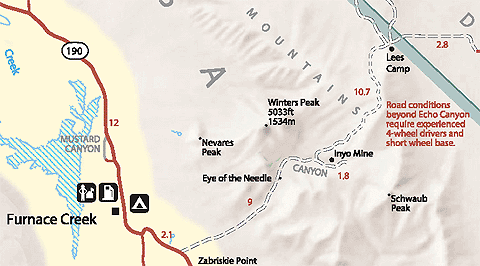 Echo Canyon 4x4 Trip Report
Echo Canyon provides a pleasant excursion out of Furnace Creek. It's an easy road to the ...