Death Valley National Park: Backcountry Roads:

Cottonwood and Marble Canyons
Route #9
Vehicle needed:
high-clearance first 8 miles, 4x4 recommended beyond

Distance:
13 miles Marble Canyon; 16 miles Cottonwood Canyon

Start:
east of the Stovepipe Wells airstrip

Camping:
yes, after first 8 miles

Description:
For the first 8 miles, the road crosses Mesquite Flat and climbs a broad alluvial fan before reaching the canyon mouth. The road drops into the wash and becomes rocky and rough. One mile past the end of the first narrows, a side road leads up to Marble Canyon. Hikers can continue up the canyon beyond road's end to see some of the finest canyon narrows in the park. Two miles beyond road's end up Cottonwood Canyon is a flowing stream lined with cottonwood trees.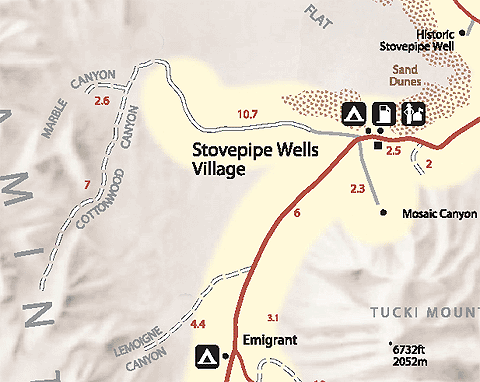 Cottonwood-Marble Canyon Loop Hike
Below the spring, trees line a small stream but brush can be ...

Geology

Mouth

The folding of the sedimentary rocks at the south end of the Grapevine Mountains is more obvious ...

Cave

This is a quite unusual cave as it does not have a ...

Megabreccia

The limestone was being pulled apart as groundwater precipitated travertine around the ...

Faults/Springs/Deposits

At this location, there is a great deal of white travertine on the north ...