---------
Donate!
---------


Death Valley National Park
Death Valley Photos
Photos and photo tours of points of interest, man-made and natural features throughout Death Valley and in close proximity to the national park.
Aguereberry Camp
40 year residence of Pete Aquereberry.
Aguereberry Point
Scenic views from above Death Valley in Panamint Mountains.
Artists Palette
Geologic color display.
Ashford Mill
Abandoned mill at southern end of Death Valley.
Badwater
Badwater Death Valley, lowest point in the western hemisphere.
Ballarat
Recreation, supplies and entertainment for miners in Panamint Mountains.
Chloride City
Ghost town in the Funeral Mountains near Daylight Pass.
Dante's View
About a mile above Badwater is Dante's View. Panoramic vistas of the Death Valley.
Darwin
1870's silver boom town.
Darwin Falls
A year-round waterfall.
Devil's Cornfield
Arrowweed clumps resembling corn shocks.
Devil's Golf Course
Salt formations in ancient lake bottom.
Eagle Borax Works
Eureka Dunes
Eureka Dunes rise nearly 680 feet above ...
Eureka Mine
Worked for over 40 years.
Father Crowley Point
Scenic view point of the northern Panamint Valley.
Furnace Creek
Golden Canyon
The colorful Golden Canyon contains an easy hike through its steep walls. The trail can be ...
Harmony Borax Works
Saltmarsh borate refining plant.
Ibex Dunes
Visitors to Saratoga Springs may notice these dunes, but they are shielded from ...
Ibex
Inyo Mine
Keane Spring
Keane Wonder Mill
Keane Wonder Mine
Leadfield
Salted ore brought Leadfield residents here to realize they had their money stolen.
Lippencott
Lead mine in Racetrack Valley
Lost Burro Gold Mine
No one seems to know what happened to the burro
Mesquite Dunes
Photos of the famous Mesquite Flats sand dunes near Stovepipe Wells
Moorehouse Mine
The last stage of mining activities in south Death Valley opened in the mid-1930s, when ...
Mosaic Canyon
Smooth marble contrasts with angular composites in this outdoor museum.
Mustard Canyon
Yellow canyon near Harmony Borax Works.
Natural Bridge
Natural bridge spanning narrow canyon.
Owl Hole Spring
This is one of the most remote locations in Death Valley.
Racetrack
The dry lake with the mysterious moving rocks.
Red Pass
Rhyolite
Large Nevada ghost town west of Beatty near Death Valley.
Saline Valley
Saline Valley is located in the northwestern portion of ...
Salt Creek
Home of rare Salt Creek Pupfish.
Saratoga Springs
Third largest marsh habitat in Death Valley National Park
Scotty's Castle
Majestic home of the legendary Death Valley Scotty
Shoreline Butte
Shorty's Grave
Shorty's Well
Skidoo Mill
Skidoo stamp mill overlooking Death Valley.
Split Cinder Cone
Striped Butte
Tea Kettle Junction
Racetrack and Hunter Mountain roads.
Titus Canyon
Scenic narrow canyon road.
Twenty Mule Team Canyon
Desolate and picturesque canyon drive east of Furnace Creek.
Ubehebe Crater
Maar volcano only about 3,000 years old.
Warm Spring
Saline Valley
Warm Springs
The waters of Warm Spring created an oasis that has long attracted human activity.
White Pass
Wildflowers
Southern Death Valley wildflowers
Wildrose Kilns
Charcoal kilns high up in Wildrose Canyon.
Zabriskie Point
Dynamic sunrise vista point
Points of interest by Area
Furnace Creek
Stovepipe Wells
Scotty's Castle
Panamint Springs
Panamint Valley
Saline Valley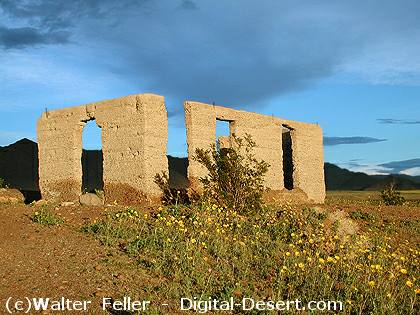 Ashford Mill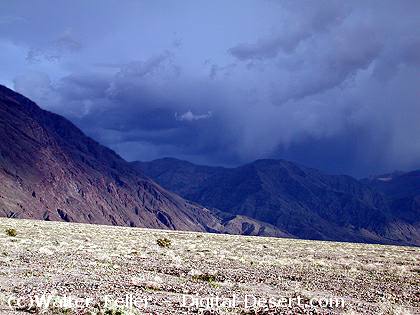 Rainstorm over the Black Mountains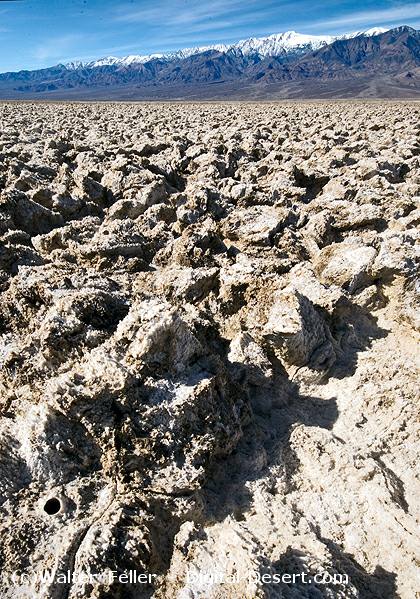 Devil's Golf Course