Death Valley National Park
Saline Valley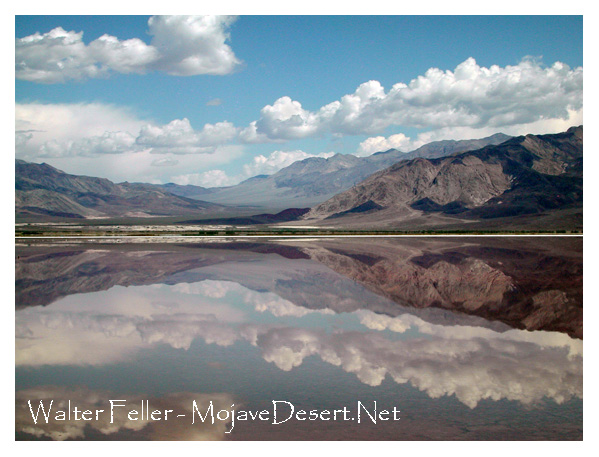 Saline Valley is located in the northwestern portion of Death Valley National Park, northwest of Death Valley and east-northeast of the Owens Valley.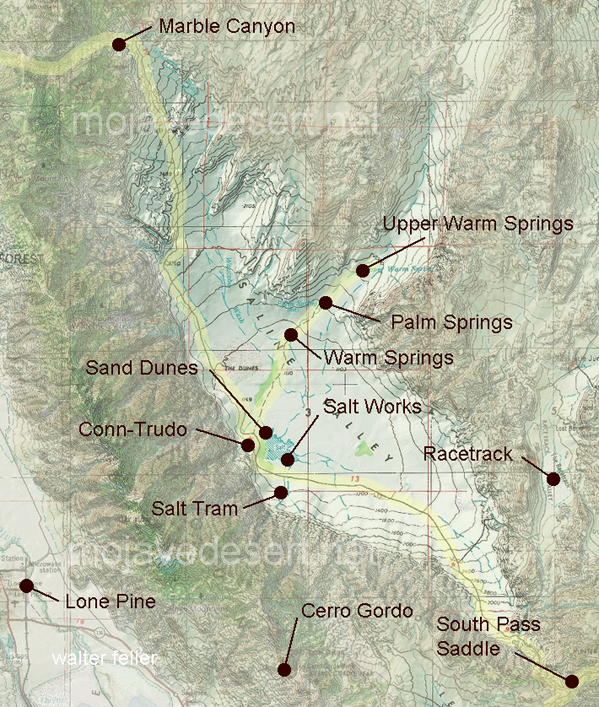 Natural Features
Hot springs, a dry lake with a salt marsh and sand dunes are natural features of the valley.
History
Saline Valley was inhabited in late prehistoric times by the Timbisha (also known as Panamint or Koso). The Timbisha Shoshone were relocated from the area in 1933 to nearby Darwin, California.

The Conn and Trudo Borax Company mined borax in the valley from 1874 to 1895. Salt mining began in 1903 and continued into the 1930s. An aerial tramway was constructed in 1911 to carry salt 13.5 miles from an elevation of 1100 ft in the Saline Valley, to 8500 ft. over the Inyo Mountains, then down again to 3600 ft. in the Owens Valley.


Shoshone Indians
At the time of major white penetration of the Great Basin and the Snake River areas in the 1840s, ...
Mining History
Ecology
Miscellaneous
Saline Valley Satellite Image
Saline Valley Photos
Saline Valley Sand Dunes
Low and sweeping, the Saline Valley sand dunes grace the salt lake near ...
Conn Trudo Borax Works
Borate minerals were extracted here years before both the ...
Warm Springs
Warm Springs and Palm Spring, in the Saline Valley, have been popular ...
Saline Valley Salt Works
During World War I, nearly pure salt was extracted from the ...
Saline Valley Salt Tram
Remarkably pure salt was extracted from the brine in the Saline Valley ...
Grapevine Canyon Wildflowers
Spread across the alluvial fan ascending Grapevine Canyon at the southern end of ...
Marble Canyon
In a narrow canyon along the northern entrance to the Saline Valley, is a ...