Geology: Natural Formations
Sand Dunes
Sand dunes form wherever environmental conditions provide sand, steady wind and a location for the sand to collect. This may occur in both coastal and terrestrial settings.
Terrestrial - Land-Locked Dunes
Sand starts as bedrock, which is broken down into blocks, a size at which water is able to transport them downstream. Eventually these large blocks may be jostled around enough to be broken into sand-sized grains. Sand and other sediment usually ends up deposited along the sides of streams, in lakes, or in the ocean, but what happens when it doesn't? An ephemeral, or seasonal stream, during its dry periods, is exposed to wind. Occassionally a lake will dry up, with its sediment left without the protection of water. These two sources feed land-locked dune fields.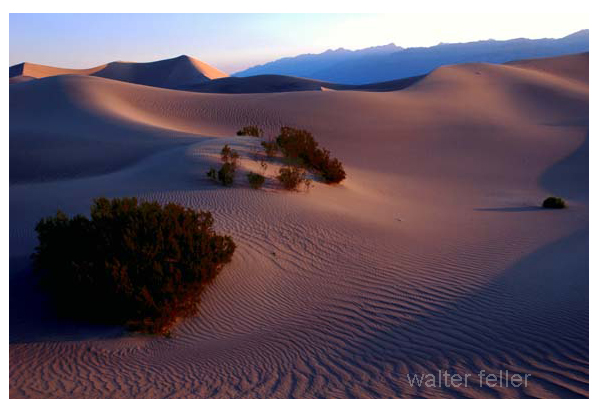 Sand Dune Formation
Processes involving sand and dust transport play an important roll in shaping the landscape and the ...
Sand Dune Photos
Eureka Dunes
Remote sand dunes in Eureka Valley, Death Valley National Park
Saline Valley Dunes
Remote sand dunes in Saline Valley, Death Valley National Park
Dumont Dunes
Sand dunes area north of Baker near Shoshone
Mesquite Dunes
Sand dunes near Stovepipe Wells in Death Valley

Kelso Dunes
Sand dunes in Mojave National Preserve near Kelso, Ca.
Olancha Dunes
Sand dunes at southern end of Owens dry lake in Owens Valley
Big Dune
... is a 1.5 square mile complex star sand dune that reaches 2,731 feet above sea level.
Means Dunes
Minor sand dune field near Means dry lake next to Twentynine Palms Marine Corp Base in Johnson Valley
Ibex Dunes
Remote dunes in southern Death Valley National Park

Panamint Dunes