Desert Archaeology - Desert Indian Culture

Petroglyphs - Rock Art
click for more: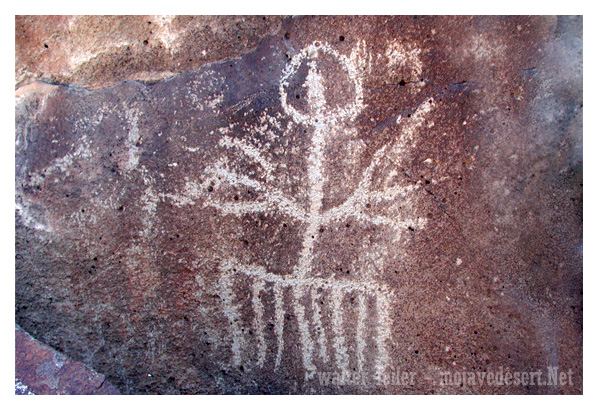 Rock art comes in two varieties, petroglyphs and pictographs. The difference between the two types is the manner in which they were made. Petroglyphs were pecked into the surface of the rock. Pictographs were painted on the rock. A coating of dark "desert varnish" on lighter sandstone provides the perfect medium for petroglyphs, which are the most common of the two types of rock art found.

Geoglyphs and geoglyphic itaglios are another form of rock art found. Rocks are rearranged and stacked, usually over large areas in the case of geoglyphs. Itaglios are usually made by removing rocks or otherwise incising the design into the desert pavement.
Introduction
First Inhabitants
Archeologists do not know for certain how long people have lived in ...
Rock Art
One evidence of Native Americans inhabiting the Mojave Desert is the ...
Meaning of Rock Art
Although the specific meaning of rock art may never be known, it can be ...
Animal Figures
Animal figures may depict the spirit helpers of the shaman, which ...
Human Figures
Human figures may portray the shaman in their supernatural realm or ...
Geometric Shapes
Geometric designs are the most common petroglyphs possibly representing ...
Environmental Symbols
Simple elemental symbols for rain and the sun can be found ... also see...
Indian Villages

Tomo Kahni - West Mojave
Winter Home of Kawaiisu Indians



Please Don't Touch

Rock art is both enduring and fragile. It has lasted hundreds of years; yet many panels have been recently defaced by graffiti.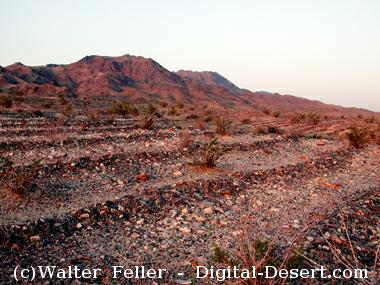 Climbing on panels can also damage the art, as can attempts to embellish the petroglyphs for photographic purposes. These practices are destructive and should not be done.

Even the oils from our hands can damage these relics from ancient times, please refrain from touching them.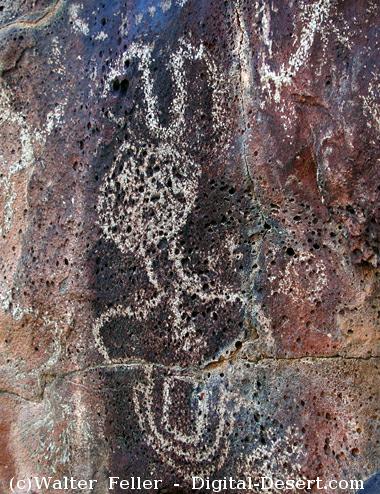 Rock Art

There are many things that can add to a good experience visiting an archaeological site. Most important is leaving with the knowledge that you have taken part in learning about the past and have left the area in good condition for others to enjoy. The Arizona State Historic Preservation Office assembled a set of ethics for visiting archaeological sites. Following these tips will enhance your own experience and also that of the visitors who come after you.
Rock circles or alignments are trying to tell a story, moving them "closes the book" without anyone having a chance to interpret what they mean.
Walk lightly across desert pavement where your tracks could cause disturbance to geoglyphs or ancient paths/trails.
If you spot an object of archaeological interest, please stop to examine and photograph the item if you like, but please do not move or disturb it.
Ruins and petroglyphs are important to Indian people today just as they were hundreds of years ago. Altering the natural landscape can be offensive to contemporary tribal members who still visit these places as their ancestors did.
source- BLM