West Mojave Desert
Barstow Area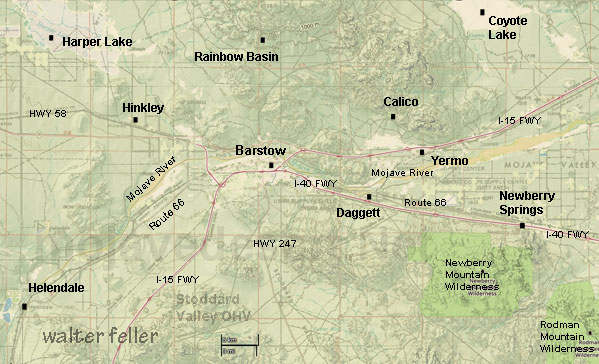 Afton Canyon
California's 'Grand Canyon'
Barstow, California
Bonnie Keebler-Harris Grave
A note was found in an amber bottle on the grave that stated, ...
Casa del Desierto
In 1911 Fred Harvey of the Harvey House system opened up the Casa Del Desierto. ...
Calico Ghost Town
Fun and popular old west ghost town attraction. Gun fights, train rides, old silver mines
Calico Cemetery
Some of 'em plugged, all of 'em planted. Old west graveyard.
Coyote Dry Lake
Popular dry lake film location. Seen in countless movies, videos and commercials
Daggett
Renamed to Daggett from Calico Junction - Pioneer cemetary and historic tour
Harper Dry Lake
Natural area, big, quiet and beautiful
Owl Canyon Campground
Campground near Rainbow Basin with beautiful rock formations of its own
Pisgah Lava Crater*
Lava crater near Hector Mine created by volcanic eruption
Pisgah Lava Tube*
Underground in a lava field.
Rainbow Basin
National Natural Landmark - Powerful colors abound in this geologic wonder
Route 66 Barstow to Amboy*
Rags on radiator caps and eat and get gas along the historic Route 66 from Barstow to Amboy
Route 66 Victorville to Barstow*
Heading to Barstow along the vintage historic highway
Slash X Ranch Cafe
The "Cattle Baron" Lee Berry and his ranch hands had no place to drink and carouse for over 10 years after his empire was on its way -- Then they built the Slash X Cafe.
Silver Bell Mine*
Mine and camp hidden off in a canyon.
Stoddard Wells Road to Victorville
The old 'shortcut' between Barstow and Victorville
Superior Dry Lake (East)
Photo tour of eastern-most lake in chain of dry lakes across the Superior Valley north of Barstow
Superior Dry Lake (Central)
Photo tour of center dry lake in chain across the Superior Valley north of Barstow