Barstow
Casa del Desierto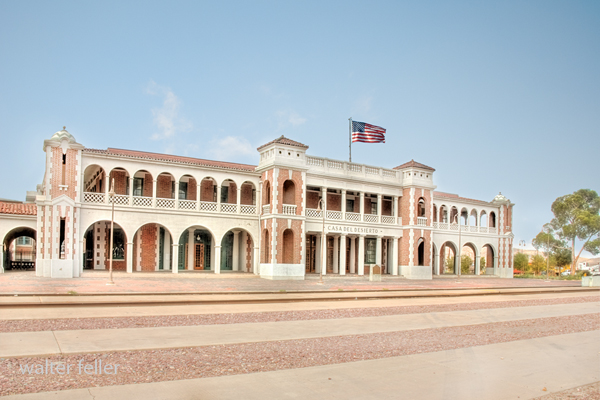 Casa del Desierto: The Spanish term for "house of the Desert

In 1911 Fred Harvey of the Harvey House system opened up the Casa Del Desierto featuring gourmet dining and lodging were featured and for many years the Barstow Harvey House was considered the jewel of the chain. With a full ballroom the neo-Southwestern style building also became the site for many of the town's dances and social events.

The first Harvey House and railroad depot was built in May, 1887. Only two months later in July, it burned down and was immediately rebuilt. In 1892 the depot burned down again and was rebuilt. In 1908 the depot burned down again. Harvey House on the forth try, in 1911, the building was made of bricks and didn't burn down. In 1974, with the station already closed and thoroughly vandalized, Santa Fe prepared to demolish the structure. Citizens formed to save the building. In 1985 Santa Fe donated the buildings to the City of Barstow. Casa del Desierto was renovated, and only one day before the re-dedication in 1992, the Landers earthquake struck it was all set back several more years and millions of dollars.

Casa Del Desierto was re-dedicated in 1999 and now houses the Mother Road Route 66 Museum, the Western America Railroad Museum (WARM), the Barstow Area Chamber of Commerce & Visitors Bureau, and an Amtrak stop.
More about Harvey House
Railroads in the Mojave