Wilderness - MAP
Bristol Mountains >> Map #36

Bristol Mountains Wilderness

SIZE: 68,515 acres

LOCATION: San Bernardino County; 40 miles southeast of Baker, California

NATURAL RESOURCES: A portion of the rolling Bristol Mountains and a tilted volcanic plain form this wilderness. The lack of any springs and extreme distances make travel in this wilderness a challenge for the most experienced desert hiker. The wilderness is contiguous with the Granite Mountains Wilderness, which is part of the Mojave National Preserve on its eastern boundary at Budweiser Wash.


ACCESS: Interstate 40 forms portions of the wilderness' southern boundary. Take the Ludlow exit from I-40 and follow the dirt road north for about 2 miles to a pipeline road and turn east. There are no established trailheads and high clearance vehicles are recommended.


Geomorphic Province : Mojave Desert
Ecosection : Mojave Desert
Ecosubsection : Bullion Mountains - Bristol Lake

Native Culture : Vanyume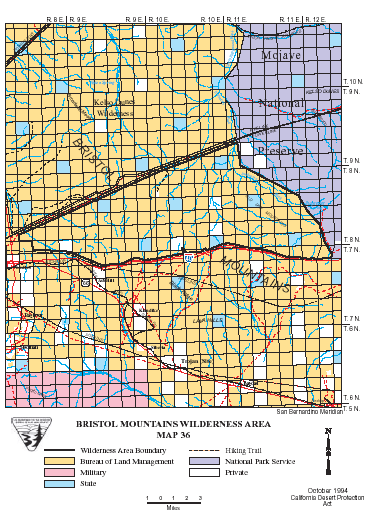 ..
-.-