Wilderness - MAP
Bighorn Mountain >> Map #23

Bighorn Mountain Wilderness

SIZE: 39,185 acres

LOCATION: San Bernardino County; 20 miles north of Yucca Valley, California

NATURAL RESOURCES: The rugged Bighorn Mountains in the north central portion of this wilderness are the foothills of the San Bernardino Mountains. Visitors can experience the rare ecological transition that occurs here, including Yucca and Joshua trees on the desert floor and stands of Jeffrey Pine at higher elevations, including the 7,500 foot high Granite Peak. Mule deer, mountain lion, bobcat and golden eagles make their home among the Joshua trees and yucca and stands of Jeffrey pine in the remote, higher elevations. Resident and migratory birds rest along Rattlesnake Canyon Creek, which flows northward through the wilderness to Johnson Valley.


ACCESS: Access this wilderness area from State Highway 247.


Geomorphic Province : Mojave Desert, Transverse Range
Ecosection : Mojave Desert, Southern California Mountains
Ecosubsection : Lucerne - Johnson Valleys and Hills, Little San Bernardino - Bighorn Mountains, San Gorgonio Mountains, Upper San Gorgonio Mountains

Native Culture : Serrano (Vanyume)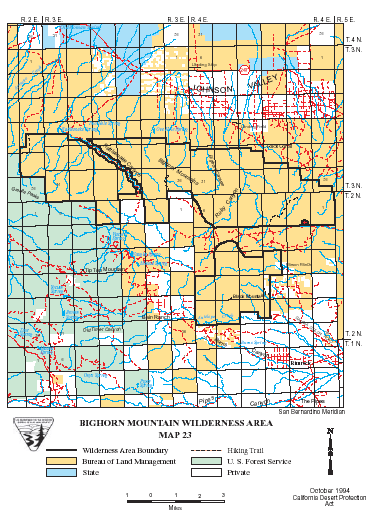 ..