Mojave Desert Communities:
Yucca Valley, California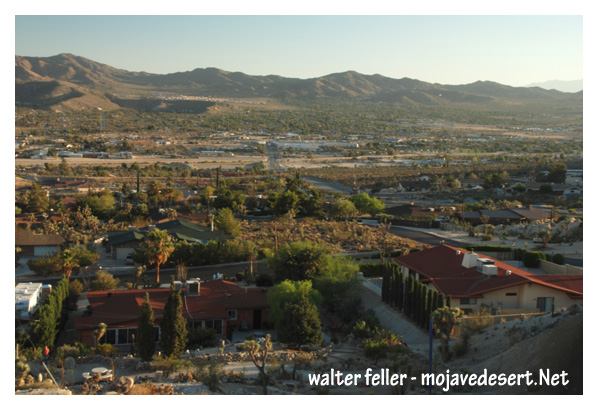 ---
Yucca Valley is a charming town located in San Bernardino County, California. Situated in the Mojave Desert, this town uniquely blends natural beauty and small-town charm. With a population of approximately 21,000, Yucca Valley provides a peaceful and serene atmosphere for residents and visitors alike.

Yucca Valley is known for its stunning landscapes. The town is surrounded by picturesque views of Joshua Tree National Park, renowned for its iconic Joshua trees and breathtaking rock formations. Visitors can explore the park's numerous hiking trails and rock climbing or enjoy a peaceful picnic amidst stunning desert scenery.

In addition to its natural beauty, Yucca Valley has a vibrant arts and culture scene. The town boasts several art galleries showcasing local artists and artisans. The Hi-Desert Nature Museum is another popular attraction, providing visitors with an insight into the unique flora and fauna of the Mojave Desert.

For outdoor enthusiasts, Yucca Valley offers a wide range of recreational activities. The town has numerous parks and recreational facilities where residents can enjoy activities such as basketball, tennis, and picnicking. The nearby Big Morongo Canyon Preserve is a haven for birdwatchers, with over 250 species of birds making their home in the area.

Yucca Valley is also known for its annual events and festivals. The Grubstake Days celebration, held every May, pays homage to the town's rich mining history and features a parade, rodeo, and other festivities. The Joshua Tree Music Festival, held near Joshua Tree, attracts music lovers nationwide and showcases a diverse lineup of musicians.

In terms of amenities, Yucca Valley has a range of shopping and dining options to cater to residents and visitors. The town has several grocery stores, boutiques, and restaurants, offering a variety of cuisines to suit every palate.

Yucca Valley, California, provides an unforgettable and tranquil escape from city life. With its stunning natural landscapes, vibrant arts scene, and an array of recreational activities, this charming town is a hidden gem waiting to be discovered. Whether you seek outdoor adventure or simply a place to relax and unwind, Yucca Valley offers something for everyone.
---
Yucca Valley Weather
Twentynine Palms, CA
Joshua Tree, CA
Pioneer Town
Landers
Big Morongo Canyon
Black Rock Canyon
Yucca Valley is the gateway to Joshua Tree National Park and the economic hub for the Morongo Basin. Base elevation at 3300 feet has all the beauty of the low desert, with the seasonable benefits of being part of the high desert.

Come and explore Old Town, art galleries, the High Desert Nature Museum, and one-of-a-kind night skies and clean air. When it comes to recreation, there is something for everyone! Yucca Valley is located minutes away from the Johnson Valley's world-famous off-road vehicle area, as well as all the hiking and equestrian trails in and around Joshua Tree National Park--not to mention fantastic rock climbing. Naturalists will enjoy bird watching, wild flowers and wildlife like none other in Southern California. Snow sports in Big Bear and water sports at the Colorado River are only a short drive away from this desert town.

source - Town of Yucca Valley