Sagebrush Annie & the Sagebrush Route
Roadhouse
In October of 1934 George Sibert began building an addition onto the service station. Modest though it was, it changed the character of the place. Until then there had just been a bedroom in the back, a living room and a small kitchen. George added room for a bar/cafe and dance floor, plus a small storage area for the beer and pop and other necessities of running a business.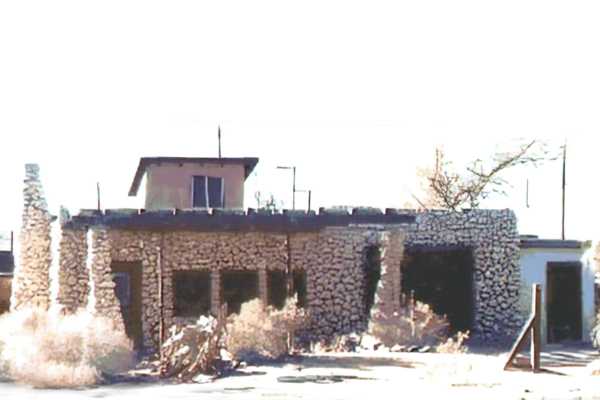 Apparently it took him more than a year to build the addition, because the grand opening was not until November of the following year. It was announced in the newspaper that the Siberts' new diningroom was open. A dance was held in honor of the occasion and was a great success; over 150 guests attended. The reporter used the name Sage Brush Inn in the article, and from that point on it ceased being referred to as the Sage Brush Service Station.

The Sage Brush Inn became an immediate hit; it obviously filled a need in that portion of the desert. "The dance at the Sage Brush roadhouse Saturday night was well attended," wrote the local correspondent about one of the weekly dances, "and Mr. and Mrs. Sibert are well pleased with the patronage they are receiving. The P. V. Jordan orchestra of Barstow furnished the music." Soon, ranch hands from all around the area came in on Saturday nights and spent their entire week's income. The beer bar quickly became the Siberts' main source of revenue.

The use of the word "roadhouse" is telling. It is defined in Random House dictionary as "an inn, dance hall, tavern, night club, etc., located on a highway, esp. one established beyond city limits chiefly to take advantage of milder county laws pertaining to the sale of alcoholic beverages." That is a perfect description of Sagebrush Annie's, and she liked the term, also, as she began to call her place a roadhouse. She advertised in the local paper: "Free dance every Saturday featuring prize dancing and ice cold beer --Sage Brush Roadhouse."

The roadhouse earned a reputation for being pretty wild. An incident which happened in 1938 demonstrates what type of place it was. It was 11:30 on a Saturday night when Mrs. Edith Todd decided she wanted to dance with a certain Loren Daniel. Mrs. Todd evidently expected trouble, because she asked another woman to help "in case she got killed."

Mrs. Todd's premonition was almost realized, as she was attacked and struck on the head five times with a glass ashtray by Mrs. Thelma Kelton. The two women fell to the floor, where Mrs. Kelton attempted to choke Mrs. Todd.

The case went to court, and several witnesses were called, including Bessie. The witnesses were said to be "surprisingly impartial," but they could not agree on several details, such as whether Mrs. Todd was carrying a beer bottle, or if she had been drinking. The Deputy District Attorney said the motive was jealousy between the two women over their "boyfriend," Mr. Daniel. The jury was not bothered by the minor discrepancies and it only took seven minutes of deliberation to find Mrs. Kelton guilty.

The Sage Brush Inn was also a cafe and George was the cook. He and Bessie had an agreement from before they got married that George would always do the cooking, since she either could not or would not cook.

Bill Bender once asked her if there was ever a time where she broke down and puttered around in the kitchen. She thought about it awhile, and replied that there was one time:

It was the day George was so sick and he was sitting by the door waiting for the ambulance to come out and take him off to the hospital. I went up to him and asked him if I couldn't cook a couple of eggs for his breakfast. He nodded and so I got busy with the skillet and did the best I could. He ate ?m and hardly got to the hospital before he croaked. And that's why I don't cook. The doggone stuff I turn out can kill you.

Bessie's kidding aside, George had been ill for a number of years before he died. Mirl Orebaugh said he had the look of a diabetic.

The local newspaper correspondent gave George a nice send-off when she wrote, "Helendalers extend their deep sympathy to Mrs. George Siebert [sic] of Sagebrush Inn in the loss of her husband, who passed away after a long patiently endured illness. We shall all miss the familiar figure sitting out in front of his station when the weather permitted, with a friendly greeting for all who passed his way." George Sibert died on August 27, 1943, at the age of 67. Bessie was left to run the business alone.

Now, there is no question that Bessie catered to some wild goings on at the Sage Brush Inn, but the thing that seems to titillate people is the rather persistent rumor that she was a madam and operated a brothel. This rumor is wide spread and taken as a given by many, maybe most, and it is certainly strengthened when Bill Bender is one of those who states it to be a fact.

Bill lived right across the street from Bessie, was well acquainted with her, and was in a position to be in the know. He put it this way:

During World War II that [living] room did overtime as a 'junior brothel' for any lonesome airman stationed at George. Annie could always get in touch with a shady lady or two when the demand was there. It never really became a steady part of her business, but she was for anything that turned a profit.

There are also wild stories about how youngsters were not allowed in the place, not even during the day, and about thatched cribs, little shed-like structures, that dotted the back yard. However, in the early days as a service station this would seem most unlikely. Nor does it seem reasonable to suppose that Sagebrush Annie's roadhouse would have brazenly had cribs on the premises with her family and friends in close proximity. Of course, in later years, with her relatives and friends gone, the situation would have been different.

Mirl Orebaugh is another local resident in a position to be in the know. He did not live quite as close to Bessie as Bill Bender, but he lived close enough and often drove by the place. Plus he did a lot of work for Bessie and knew her well. For example, in 1947 he installed the first electric gas pumps at the Sage Brush Inn. Up until then they had used the old-style hand pump with the glass bowl on top. Mirl is of the opinion that there was no brothel, but that some of the women on Saturday nights would give sexual favors.

One old-timer on a historical society tour along the Sagebrush Route stated his mother had actually worked for Bessie. Standing in front of the inn, he said:

You don't want to believe everything that you hear about this place. My mother worked here in her youth, and she told me that Sagebrush Annie was very protective of the younger, innocent women who worked for her. If the older ones wanted to slip away for awhile and earn some money on the side, well, that was their business.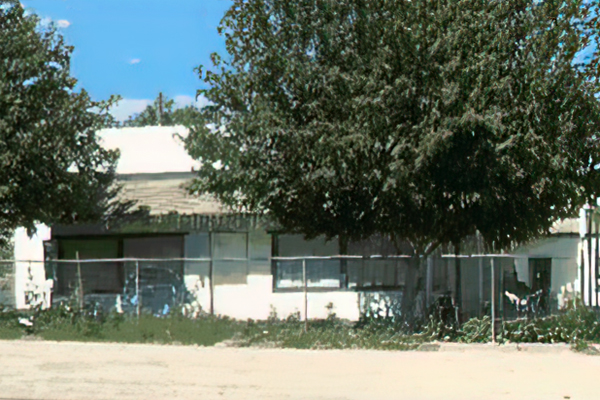 Elva's Malt Shop

One thing everybody agrees on is that Bessie was not a cook. Ovie Corrington, who owns a farm in the area, remembers she would show up for local functions, picnics, potlucks and the like, but she would not bring a dish of food. She did bring two plates, but those were for eating on.

Another problem Bessie had was her fear of being alone. After George died, she solved both problems by hiring cooks, who lived there at the roadhouse.

The first one was Johnny Rogers, and Bessie let him sleep on the couch in the living room. Johnny had a good education, and he was shrewd. He had been in the real estate business, but the love of drink had eventually made him turn his back on his former life. He was content to stay at the Sage Brush Inn where he could get all the free beer and food he wanted and a roof over his head.

Johnny was with Bessie quite a few years and she became very fond of him. Eventually she allowed him to run the place as the man of the house. After the Apple Valley Inn was opened in November of 1948, the two of them would put on their best "Sunday togs" and go for a good meal and night on the town.

About this time, according to Bill Bender, a new cook came on the scene:

...another friend by the name of Red Cole retires from the railroad and he loved to cook, so Johnny let him move in, too. That relieved [Johnny] of the cooking responsibility. Lucky Red Cole was at the right place and the right time, so we now have a threesome. However, Johnny was still top dog and Red jumped every time Johnny hollered "frog." The only thing the two men had in common was they were pretty well plastered by sundown. Not sloppy, just jovial and good natured.

Johnny had a big slobbery dog and at a certain stage in his drinking he'd slap the counter and that big 150-pound boxer dog would be on top of it in one leap. Then he'd tell it to walk up and down the length of it several times while all the customers held on to their beer bottles.

By 8:00 p.m. Red Cole was ready for bed, but Johnny and Annie were night people and they kept the place open until the last customer had departed. Red Cole's bedroom was unique. It was the back seat of his old Plymouth. That was part of the agreement when he moved in. However, it didn't matter where he slept, as by then he was lost to the world.

Johnny and Red bought acreage a quarter mile south of us for an investment. However, Red, tired of sleeping in the back seat of the car in all kinds of weather, began a cinder block building and was about half finished when fate stepped in.

One night Johnny was weaving his way home from an evening of drinking at the various bars on D Street. Just a few feet north of Danny's Place, now converted to a home, on old Highway 66 he saw headlights coming towards him. Then and there he made the biggest mistake of his life as he tried to go between them. Between those lights was the radiator of an 18 wheeler and Johnny's little car was no match for a head-on collision of that caliber. Johnny got himself a funeral, Red inherited the couch, and the cinder block house was never finished. As of 1992 it is still standing on the east side of the highway.

Now Red Cole was top dog and his first move was to pound that idea into Annie's head. Where Johnny ruled by frivolous charm and flattery, Red ran his campaign on pouting and threats. If he could not have his way he would just threaten to leave for parts unknown. He never had it so good at the Sage Brush Inn with no rent, free gasoline, food and all the beer he could drink. Everyone knew he was bluffing except Annie. She always gave in for fear of being left alone.

Bill told another story about a colonel who visited the area. Apparently Red's hamburgers were famous at the air base. He made delicious hamburgers that cost twice as much to make as what Bessie charged for them.

Well, the colonel had to have one, but he picked a bad time. Red had been working on his cinder block house and he was allergic to cement, so his hands were red and scaly and his nose was running. And to further ruin the officer's appetite, Red had some gross personal habits.

Bill later received a letter from the colonel:
War is just kid's play after my encounter with Red Cole. I'm thinking of nominating him for official Air Force Chef because I've never seen a man who could pick his nose, flip a hamburger and scratch both armpits at the same time.
Red got rid of everything that had to do with Johnny, including the dog. Next he made Bessie close by 8:00 every night. Then he got a chef's hat, a new grill, and whatever else took his fancy. One of his acquisitions was a public address system for the Sage Brush Inn. Bill said the P. A. system must have been "the first and only toy Red ever owned," as he never tired of it:

It was always on full volume and when a car load of travelers pulled in under the shade of the canopy they were only a few feet from the loud speaker and ol' Red would about blow their ear drums out with his greeting. It usually went something like this: "Howdy stranger! By cracky you just pile outta thet autymobile of yours and come inside and git a nice cold beer to cool off them bags under your eyeballs."

He had other greetings that surfaced in accordance to the amount of beer he had consumed up to that time. Some strangers got a kick out of his folksy way while others seem terrified and their spinning wheels threw dirt and gravel all over as they accelerated down the highway.

Red had just as tragic an end as Johnny. Bessie would go to town religiously once a week to have her hair done, and on this particular day Red had one of his pouting spells and forbade her to go. Bessie went anyway, and Red snapped for some reason. He wrote her a note along the lines of, "This will teach you a lesson. When I tell you not to do something you better pay attention." He then put a shotgun in his mouth and committed suicide. The local people tell the story that when Bessie got back from town, she called the coroner but kept her place open, and just stepped over the body while serving her customers.

After Red Cole's death, she replaced him. The last cook Bill Bender remembers was called Uncle Miltie by his neighbors.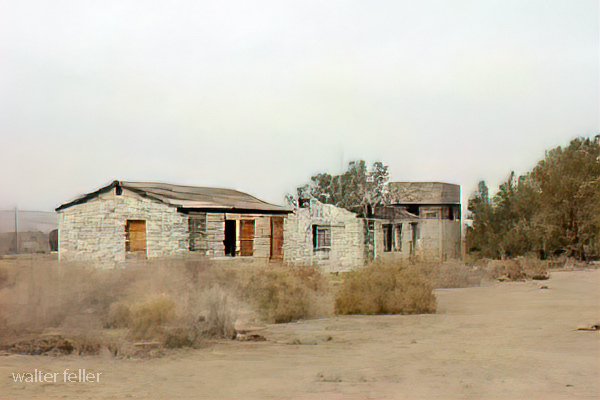 Photo of Potapov's auto court

We already have some insight into what Sagebrush Annie was like. She was a robust, pretty woman, as can be seen from her photograph. She was so coarse she could scare small children, yet she was so charismatic she could entice people to move to the desert and others to crowd into her roadhouse.

Perhaps a few personal facts will shed further light on who she was. Elizabeth Louise Sibert, nee Russell, was born in Iowa on January 22, 1882. Just prior to her birth, the 1880 federal census shows, the family was living in Union, Iowa.

Her father was George R. Russell, her mother Rosa L. Russell, and her siblings were Paul and Eva. Her grandmother Martha Russell was also listed, then 74 years of age and born in England. Her parents were both born in Wisconsin. George and Bessie had no children, living or dead, according to testimony she gave in her will.

Bessie was careful with her money, but she did allow herself certain personal luxuries, one of them her rings. Her estate was appraised upon her death in 1970 and she had five rings worth a total of $600.

One ring, a lady's yellow metal ring set with one large yellow stone was appraised at $200. This was quite a sum, especially considering that the entire roadhouse's furnishings--furniture, appliances, etc. -- were only worth $100. In fact, the Sage Brush Inn -- house, cafe, service station, bar and all -- was only appraised at $4,000.

She had managed to save $12,000 in cash, and her total estate was worth more than $18,000. This was a decent amount at that time, about what one might expect for a roadside business owner who probably did not have much income after the freeway opened in 1958.

Another luxury Bessie allowed herself was her Studebakers. She bought them from King Brothers, the local Studebaker dealer in Oro Grande. At the time of her death she had a 1965 Studebaker. She was in her late 80s, but she was still driving. The cars were red, as that was her favorite color. She even painted the Sage Brush Inn red, which certainly did not help her reputation vis-a-vis the brothel controversy.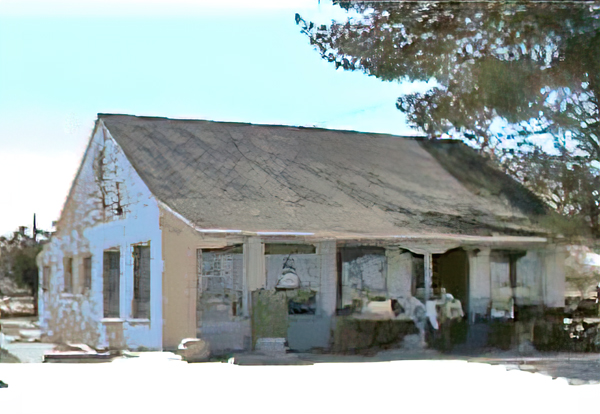 Photo of White Orange Cafe

We know Bessie did not like to be alone, even to the point of letting a petulant, uncouth cook dominate her life. She did have friends who would come into the Sage Brush Inn and chat with her, and she would visit people in the neighborhood.

Minnie Vondettum would come over and buy a beer and nurse it all day, just to be sociable. During the night, if Bessie got lonesome, she made her way over to the nearby White Orange Cafe. Bill Bender related how if he and his wife did not show up at the inn for coffee in the morning, Bessie would bring it to them whether they wanted it or not. He said that after waddling across the highway with it, half would be gone, and of course she expected them to pay for it.

Sagebrush Annie kept her business operating, even with the loss of traffic to the freeway, until her death. In March 1970 she caught a common cold but could not shake it. She went to the doctor twice, but eventually she needed an ambulance to take her to St. Mary's Hospital, where she passed away. Perhaps her multi-pack Lucky Strike habit kept her from getting well. Of course, she was 88 years old.

< Previous - Next >
Contents
Two Ruts in the Sand
The Needles Road
Chief Bootlegger & Builder
Sagebrush Annie
Roadhouse
Sage Brush Route Tour