Route 66 - Victor Valley
Helendale, California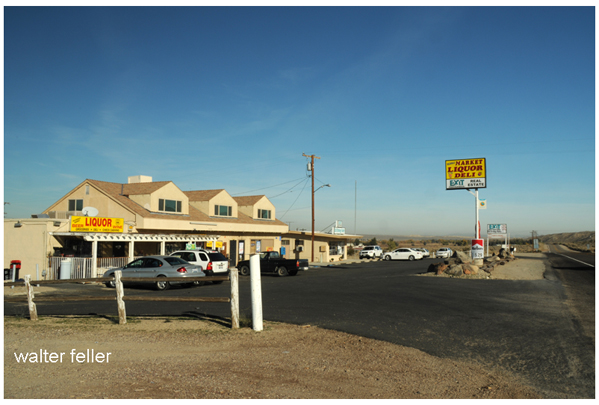 Helendale is an unincorporated community located in San Bernardino County, California, on historic Route 66 west of the Mojave Freeway (I-15 Fwy), between Barstow and Victorville, in the Victor Valley. It includes the Helendale resort community of Silver Lakes.
History
Native Americans lived in the area, namely the Vanyume (Serrano). It is believed that the first White man to travel through was the Franciscan priest Francisco Garcés in 1776. He was exploring a route to the missions on the coast following the Mojave River.

The original name for Helendale was Point of Rocks. There were several early trails and roadways through this area of the Mojave Desert, including the Mojave Trail, which was used by the Indians and Father Garcés, the Spanish Trail, the Santa Fe Trail, the Mormon Trail, et cetera.

After Father Garcés, Jedediah Smith traveled through the Point of Rocks area in 1826 on a fur trapping expedition. In 1844, John C. Fremont and his guide, Kit Carson, traveled through heading east via the Cajon Pass. During the Mexican-American War, in late 1846 or early 1847, the Mormon battalion camped at Point of Rocks on their way to Los Angeles. They were released from the military shortly afterward and part of the battalion returned to Salt Lake City through Point of Rocks.

The first Mormon wagon train traveled through in about 1851. In 1857, Edward Fitzgerald Beale and his camel driver, Hi Jolly, brought a famous caravan through on the way to Wilmington for the Camel Corps. After a few horse ridden mail conveyance companies during the 1850s went out of business, the short-lived Pony Express began its service in the early 1860s and a stone station was built by the river at Point of Rocks. The stagecoach station at Point of Rocks was located west of where the railroad tracks were later put down. In about 1863, the station was burned by Paiute Indians.

The Santa Fe Railroad arrived in the 1880s and built a Point of Rocks station, which provided a watering stop for the steam engine locomotives then moving trains across the High Desert. On December 15, 1897, the name was changed to Helen in honor of Helen A. Wells (born 1885), daughter of railroad executive Arthur G. Wells (1861–1932). On September 22, 1918, the name was changed to Helendale.

Route 66, or National Trails Highway, was paved and officially opened in the Helendale area in 1926. Helendale has a historical marker commemorating the old road that is located 100 yards south of the intersection of Route 66 and Vista Road.

In 1969, construction began on two manmade lakes, North Lake and South Lake, covering approximately 277 acres (1.12 km2), and a resort community called Silver Lakes was built at Helendale that opened in the early 1970s. Ecology

Mojave River
Geography
Elevation: 2,430 feet (740 m) above sea level.
Other
Mojave Indian Trail

Old Spanish Trail

Salt Lake Wagon Road

National Old Trails Road

Mojave River Trail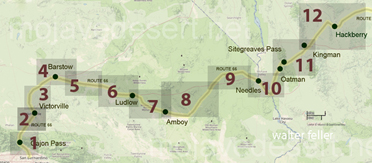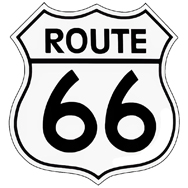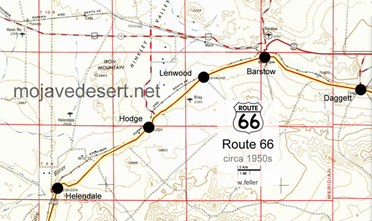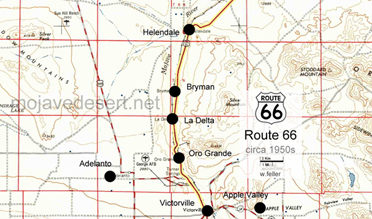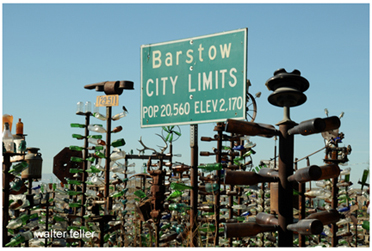 Elmer Long's Bottle Ranch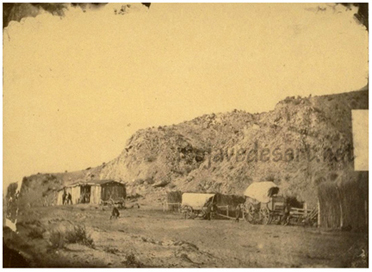 Point of Rocks - 1863
Point of Rocks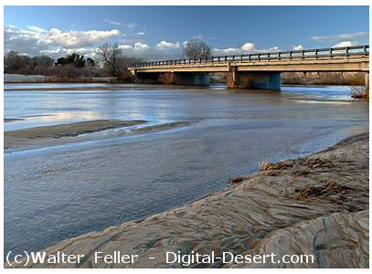 Mojave River bridge at Helendale